Disposing Of Waste Flooring – The Packaging Doctor
As a customer receiving any kind of service, you expect an all-round professional experience. For instance, if you have work completed on your house; you expect the job to be done within an agreed time frame and to a high standard.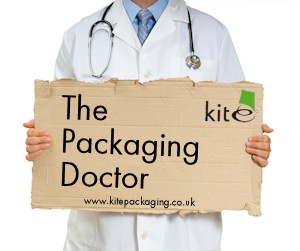 Once complete, you can then shut the front door, embrace the new development to your home, and return back to normality. You don't expect to spending hours hoovering and tidying up after the builders, as this isn't what you've paid for.
As service providers, it is important that when a job is finished, tools and waste are disposed of efficiently and hygienically. Various effective packaging methods can be used for this, and at very little cost.
Today in the surgery we see a floor fitter getting himself in a mess and looking for a solution to tidy up waste after finishing a job. Read below how I helped provide him with one of the simplest solutions on the market…
Hi Doctor,
I hope you can help me. I work for a flooring company where we travel around the country fitting and removing floors for our customers.
I need some advice from you as we are receiving complaints from our customers regarding the mess we are creating. After finishing the job, we are currently dragging the excess floor waste from the house out to the skip, and this leaves the customer's house in a state.
We need a solution that is easy to use and isn't time consuming, as we are always on a tight schedule. What would you recommend?
Thanks,
Dave
Hi Dave,
Thanks for your question. I can see that you have got yourself into a bit of a messy situation, but never fear the Packaging Doctor is here.
Take a look at our Refuse Sacks (Bin Bags). We offer a range of different sized and coloured polythene bags, suitable for both our industrial and general domestic use customers.
For your flooring company, I would recommend our Compactor sack black bags. These bags are the thickest bag we offer, with 300 gauge thickness and are designed for industrial use. The thickness of the bags means they are strong enough to hold the weight of the flooring waste, and will avoid any tearing during storage or movement. It also assures you that all the loose bits are contained in the bag to ensure no fly away with windy weather.
Implementing refuse sacks into the 'cleaning up' process, offers a quick and hygienic method to tidy up all the loose bits of flooring. Your customers will be left happy that they have been left with a clean house and no further time will be required to implement the process.
Hope this helps!
Best wishes,
The Packaging Doctor

Note: All the packaging problems our doctor receives are real queries from customers or non-customers.
If you have a packaging problem that needs diagnosing get in touch on Twitter@kitepackaging or email packagingdoctor@kitepackaging.co.uk