DIY Compliance Schemes – What You Didn't Know
On face value many compliance schemes appear to offer the world in terms of service but few actually deliver, masking true service by investing in marketing rather than in delivering an outstanding customer experience.
Wren Kitchens
The video below gets to grips with the issue of perceived value in relation to kitchens, an example which translates very well to complying with the Packaging Regulations via a scheme. Give it watch before reading on and you'll know what we're talking about!
The advert plays on our perceptions of cost/value and how sometimes they may not be right.  Translate this to the world of Packaging Compliance Schemes - often the perception is that a low cost "DIY" compliance scheme costs you less and of course saving money is important… but is this really the case?
The true cost of complying with the Packaging Regulations are often buried beneath the surface and can far out-weigh the headline fees for many companies wrestling to pull their annual data submissions together.
The Iceberg Theory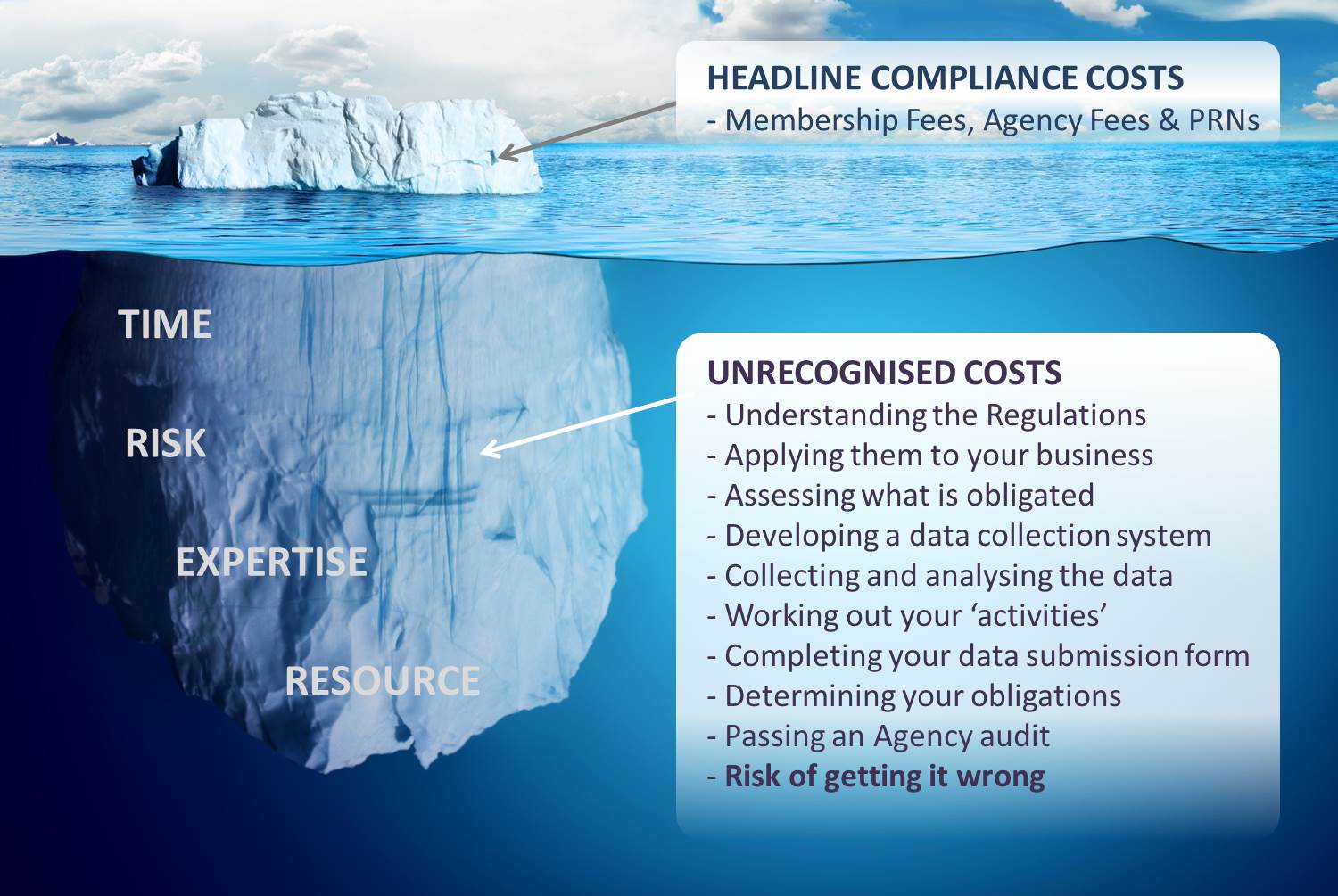 At Kite, we recognised this as an important issue when we started as a Compliance Scheme in 2003. Accordingly we fix this problem for our customers by doing the majority of the work for them. We assess our Members obligations by:
Completing an on-site audit of the packaging flows within your business to include a site tour
Assessing what is (and is not) obligated packaging
Developing a data collection system tailored to you
Analysing raw data and reports where sampling of products is required
Completing the necessary calculations in relation to the packaging activities performed
Documenting how the raw data has been assessed
Completing your data submission form
Registering you with the Environment Agency
Obtaining your Packaging Recovery Notes (PRNs)
We are so confident of our service that we will attend your Environment Agency audit, for no additional cost, ensuring you pass with flying colours - it is easy to be confident when we've done all the number crunching.
So, focusing on the tip of the iceberg can be a red herring and headline costs don't give the full picture. Joining Kite's scheme means that you don't have to worry about what you can't see, and what is under the water we do for you, leaving you with peace of mind and the total confidence that your data will pass a regulatory audit whilst strategically saving you cost.
So, as per the advert: Is it in fact the low cost "DIY" scheme that is costing you more?
To find out more, give us a call on 024 76420080 and see how we do things differently.
 See Our Website and Contact Us