Does Offering A Gift-Wrapping Service Add Value?
Boost Your Online Offering This Christmas
A recent survey by Experian has shown that the 'Christmas Creep' or early arrival of Christmas campaigns has divided the UK in to two types of Christmas Shoppers - the Festive Early Bird and the Savvy Christmas Saver. Today's post will be looking at the Festive Early Birds, and how improving your online retail offering can attract these customers and result in an early boost in your Christmas figures.
According to the study, Festive Early Birds tend to be high income families that shop online for convenience as they are often busy parents with limited spare time. They shop early to avoid disappointment and often live in suburbs or country areas where their local shops are limiting in terms of finding the 'perfect' gift. These shoppers are often looking for a full service solution to save time around the busy Christmas period and take pride in getting all their shopping done early. If you're an online retailer what better way to fully cater to your customers' needs than offering an additional gift wrapping service this season.
Who Does It?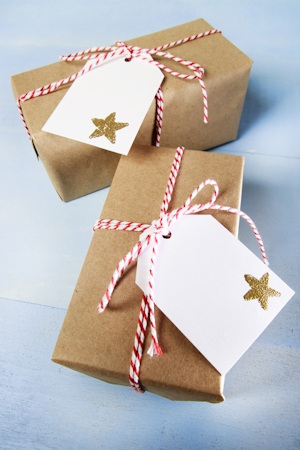 Currently most retailers charge for gift-wrapping, and recent studies have shown that the majority of people are willing to pay between £2-4 for a gift wrapping service. This is ideal for recovering your packaging and labour costs however it also opens up an opportunity for offering a free or cheaper wrapping service to get a competitive edge. Gift wrapping is a fairly modern concept, and therefore there are a few holes in retailer's current gift wrap strategy.
Businesses such as Boots only offer a gift box option, in which all items that are selected to be gift wrapped are placed in one box. This isn't ideal if you're buying several peoples presents in one go and is quite restricting considering this is a paid for service. Selfridges also package goods in to a gift box, complete with branded tissue paper and a message card which adds a more personal touch. However because this service is offered all year round the colour scheme isn't very festive, and emblazoned with Selfridges branding which gives the game away if your customers don't want people knowing they are too lazy to wrap a gift!
Amazon perhaps offer the best gift wrapping service, with paper and tissue in Amazon brand colours and including a personalised gift card. Prices start from £3.05 which seems fairly reasonable considering the level of service that is being received.
Why Should I Do It?
Offering gift wrapping as part of your product is a brilliant way to add to your customer service portfolio, if you are a small business your competitors may offer similar product but be at an advantage in the fact they have bigger budgets and are able to be more competitive in the marketplace. However brilliant customer service is something that is invaluable, and once a customer becomes loyal to you based on service it will be difficult for competitors to bring them back.
Gift wrapping is also an incredibly easy way to offer a full service solution, and if you are just starting out can be applied only during the festive period as a way to test the service and reduce labour costs. As we have seen with a quick look at the current services offered there is room for improvement. And particularly if you are a bespoke business specialising in certain gift products you can make this service extra special and become a leader in your sector.
Where Do I Start?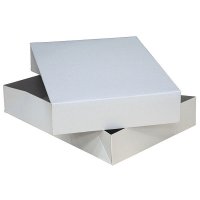 First of all you will need to decide exactly what you want to offer. If you are expecting large volumes of orders around Christmas it is probably best to stick to a 'one size fits all' solution such as a gift box. Our white presentation boxes are perfect for this style of gift wrapping, and can be finished off with coloured tissue paper for a stunning looking product. The great thing about this is it also acts as the external packaging of a product as well, there is no need to place these boxes in another box, which reduces costs and may mean you are able to offer gift wrapping as a free service - a brilliant USP for your business.
These white boxes are made from strong cardboard with a professional finish and available in a pizza box style, with tuck in flaps or in a base and lid design. What's more they are incredibly affordable and available in a wide range of sizes so that you can choose the right ones for your product. We also stock tissue paper, which many choose in their brand colours to promote their business. This is a subtle way of keeping your gift packaging uniform and still presenting a product to a customer which can be passed on to a recipient without any worries.
If you are looking for a more bespoke solution or particularly want to wrap your products as you would a traditional present the most cost effective and eye-catching solution is to use coloured paper. These are often very expensive from high street stationers however with our bulk discounts you will be able to purchase all the wrapping you need without breaking the bank. Available in blue, yellow, red and brown you could even give customers the option of choosing which colour wrapping to have which adds something extra to your offering. The paper also has a ribbed texture with a smooth finish, offering extra protection from impact damage as well as excellent tear resistance. Simply finish with a thick festive ribbon for a professional and luxurious looking package.
A Special Mention
We just couldn't write a packaging blog post without mentioning these guys, Firebox sells a plethora of weird and wonderful pictures and gadgets and will be your new favourite place for funny stocking fillers this season. They have turned the gift wrap service on its head and offer their own unique 'CrapWrap' service which according to the website is an - "exclusive and thoroughly slapdash gift wrapping service involves us wrapping your gifts in a disgracefully reckless fashion." With a target audience of students, males and people with a sense of humour this service has been designed for the poorest of wrappers so that gifts appear "so bad, they'll think you wrapped it!" Not ideal for the Festive Early Bird stereotype of high-income suburban-ites but top marks for a light-hearted approach to the gift-giving season.
We wish you the very best of luck with your Festive Early Bird shoppers and hope this Christmas is a great time for your business! Let us know what you think on Twitter - @kitepackaging
Please note that Kite Packaging is not connected to or endorses any of the products or companies mentioned above.