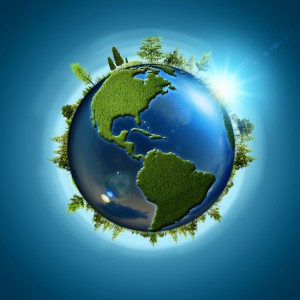 As today is National Earth Day, we wanted to share with you some of the environmentally friendly products we supply.
As a packaging company, we understand the effect that materials can have on the environment. We believe that quality packaging doesn't have to cost the earth, and therefore have our unique range of environmentally friendly packaging to reduce the impact the materials have on the planet.
As a company we are environmentally aware, we have Kite Environmental Solutions, which is a Government Accredited Compliance Scheme for the Packaging Regulations and also have a range of products that have been designed so that they are fully recyclable, made from recycled content or simply support businesses in reducing the amount of waste it generates.
Our Enviro-Boxes are one of the UK's most environmentally friendly boxes offering the same protection of traditional double wall boxes but using less material.
Envirostretch is our innovative environmentally friendly pallet wrap. Not only is it kinder to the environment, it is a cost effective choice. Users will benefit from more stretch wrap per roll along with less wastage.
Our 150m Acrylic tape uses a smaller core, reducing costs, transport costs, fuel emissions and reduces cardboard waste by 63%. It's perfect for sealing cartons, boxes, bags and packages, providing a secure seal for items in storage and transit.
Manufactured from starch material, our EcoFlo loose fill is fully soluble when saturated with water and is 100% biodegradable. It provides an excellent 'in-the-box' packaging solution.
Our bubble lined mailers have been responsible sourced and can be recycled. Manufactured from FSC paper, no solvents are used in their production or printing.
Made from recycled material, our standard polythene mailing bags are an environmentally friendly solution, ideal for sending goods out in the post.
Our paper carrier bags are strong, good quality bags with paper handles. They are manufactured from strong Kraft paper ethically sourced from sustainable forests and can be recycled after use. With the new 5p government charge, these bags are ideal.
Our recycled paper rolls are kind to the environment, they offer great versatility and are fully recyclable. Suitable for covering boxes, books and parts to protect against scratches.
For more information on Kites products visit www.kitepackaging.co.uk