Easter; for many this means time off school, a chance to relax with family and friends, brightly coloured daffodils, lambs skipping in fields and not to forget eating copious amounts of scrummy chocolate!
Everyone loves the sunshine, but if you aren't lucky enough to have great weather over the holidays, and are concerned about keeping your children entertained, fear no more. We've got some clever, packaging-based Easter activities up our sleeve, that will put a spring back in your step.
Nothing says Easter like making or receiving handmade crafts.
Try making some homemade Easter egg shaped mosaics, cards and book marks for friends and family, using our tissue paper. With over 15 colours to choose from you will instantly brighten up any piece of card, and put a smile onto someone's face.
Having a party? How about getting creative and making yourself an animal themed cardboard mask, maybe a rabbit, a chick, or if you are feeling adventurous how about a traditional Easter bonnet?!  Our cardboard sheets are perfect for the job, providing a strong and sturdy base. Once cut to shape, simply add colourful bits of tissue paper, sequins, feathers and other decorations to finish.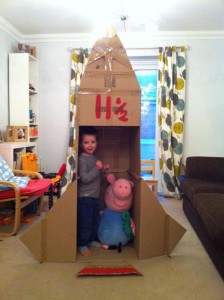 Maybe you see yourself as a budding astronaut with a mission to land on the moon? One of our talented Facebook friends certainly did, and kindly shared their DIY cardboard based rocket with us. Hours of fun, at minimum cost.
Try making one yourself, it really is simple! Check out our cardboard boxes, cardboard sheets and tape range to get yours built.
So there you have it; a range of simple and inexpensive packaging products and ideas that will provide hours of holiday fun for all of the family.
Check out our website or call our friendly sales team on 02476 420065 today to find out more.
Happy Easter!