Employee-owned business Kite Packaging awarded BRC accreditation in their Letchworth branch
Kite Packaging was founded in 2001 as a true Employee-owned business and has worked by the motto, "Customer satisfaction matters so much more when you own the business". Throughout its 16 year history, the Group has seen significant growth and has a strong regional branch network across the UK, in the Midlands, Rotherham, Swindon, Letchworth, Sittingbourne and Portsmouth, and an Environmental Compliance business and a leading e-commerce offering.
The BRC (British Retail Consortium) standard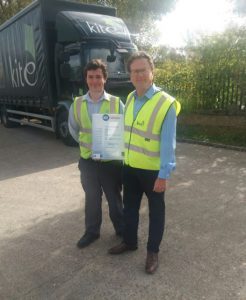 promotes continuous improvement in operating practices and is designed to ensure best practice in handling storage and distribution of products. The global standard provides an essential certification link between the range of BRC manufacturing standards and the end user, the retailer and the food service company.
In order to successfully complete the audit, Kite was required to identify hazards that could take place and then take necessary measurements to meet the audit criteria by becoming free from chemical, biological and physical contamination. Completion of the recent audit led to Kite successfully receiving BRC accreditation for storage.
For the Letchworth branch and their customers, this opens up a range of benefits. The storage and distribution accreditation gives confidence in Kites storage and handling processes and supply chain management, and is accepted as part of supplier's approval process.  Existing customers who require BRC certification of their suppliers no longer have to carry out an individual audit on Kite. The objective of the standard is to ensure that the quality and safety of products during the storage and distribution are maintained, therefore, customer confidence is upheld through audit and certification.
For more information on products and services please contact www.kitepackaging.co.uk.