Environmentally Friendly Packaging For Green Businesses
The packaging industry has been heavily criticized in the past for contributing to the on-going waste problem in the UK. The historic overuse of plastic and other harmful materials such as polystyrene is a massive factor in this. At Kite, we have been disrupting industry standards since our founding. With a philosophy of employee share-ownership, every member of our workforce, whether they work in our new products team or in the call centre, is committed to promoting eco-friendly packaging.
This blog will illustrate some spotlight products from a range of our website categories that can replace some popular yet unsustainable packaging you may currently use. Each will display excellent green qualities combined with often superior functionality and even lower prices. We want eco-friendly packaging to be accessible to everyone who uses it.
Envirobox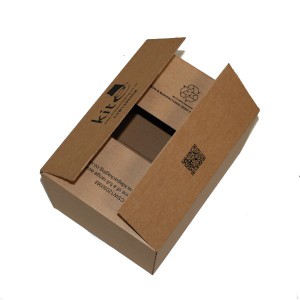 Back in 2005, Kite worked with WRAP (Waste and Resources Action programme) to produce Enviroboxes, a heavy duty box with the same strength as double wall cartons but created using less cardboard. They are ideal for shipping all kinds of goods, even heavy items due to this increased strength. Available in 10 different sizes from 12 x 9 x 9 inches to 30 x 18 x 18 inches, they are perfect for logistics businesses and for shipping large quantities of product. The larger sizes also have hand holes for easier lifting and many sizes have a multi-score feature for versatility.
Alternative to: Double Wall Boxes
Environmental Credentials:
7% lighter than double wall cardboard to reduce transport costs
Environmentally friendly manufacturing process, resulting in 30% less CO2 emissions
50% reduction in cardboard waste compared with double wall cartons
Envirostretch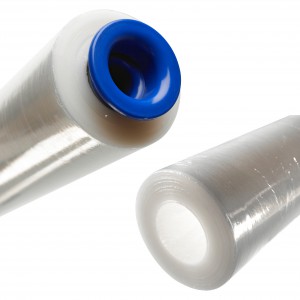 Stretch film is a huge consumable for many operations, however the size of the product often means tons of cardboard is thrown away each year as the rolls of films are used. Envirostretch has been designed to tackle this issue and is completely coreless so that cardboard waste is reduced entirely. The rolls can be used on a dedicated dispenser for ease of wrapping and are available in both 17 and 20 microns so that they are suitable for medium duty and heavy duty use. The coreless design also means the roll is much lighter than standard pallet wrap and therefore much easier to maneuverer, ideal for operations with a high throughput and fast turnaround times.
Alternative to: Standard Pallet Wrap
Environmental Credentials
Coreless design means a 100% reduction in cardboard waste
25% wider than standard pallet wrap so less wraps are required, saving transport costs and waste
Hivewrap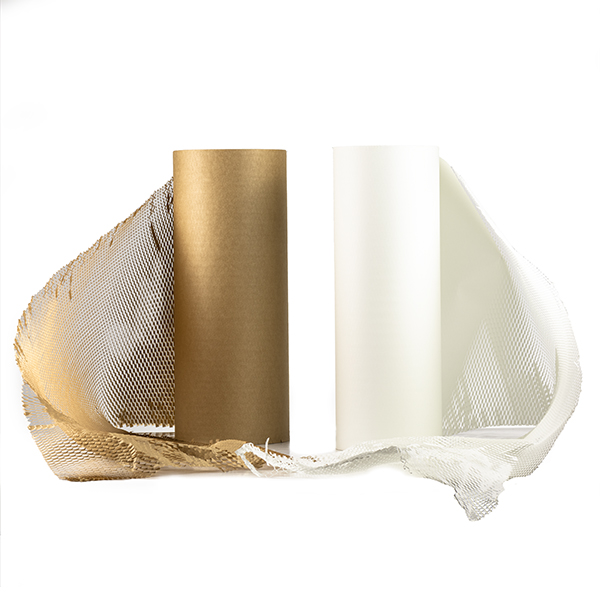 Possibly one of the most notoriously harmful yet widely used packaging products: bubble wrap. Fortunately, we supply a selection of five alternatives that protect both your items and the environment that can be viewed in full through this blog, with the headliner being Hivewrap. This kraft paper roll is 100% recyclable, biodegradable and plastic-free. The unique honeycomb design leverages the ultimate strength and flexibility of the hexagon, granting the contents outstanding protection against impact combined with an impressive adaptability to even unusual shapes. Choose from either a classic brown shade or crisp white to match your branding and enjoy massive space savings, cost reductions and of course, enhanced green credentials.
Alternative to: bubble wrap
Environmental Credentials
100% recyclable and biodegradable
Plastic-free
Reduces space required by 20 times
35% cost saving since one roll of our 500mm Hivewrap can cover the same amount of product as four rolls of 500mm x 100m of bubble wrap
Envirochips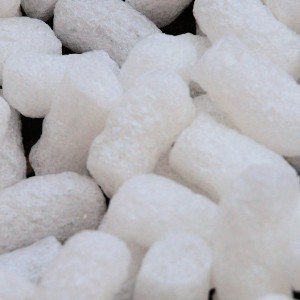 EcoFlo is the brand name given to our Envirochips, starch based loose fill that is still one of the most popular void filling materials. Available in 15 cubic feet bags, the chips have a cylindrical design to manoeuvre around products perfectly and have been proven to offer better protection than polystyrene chips. Loose fill chips are not only great at filling holes to prevent products moving in transit but also act as a great shock absorber to prevent against damage.
Alternative to: Polystyrene Loose Fill Chips
Environmental Credentials
Made from starch, these chips are 100% biodegradable and 100% compostable
Contain no hazardous decomposition products to protect the environment and create minimum impact once disposed of
Eco mailing bags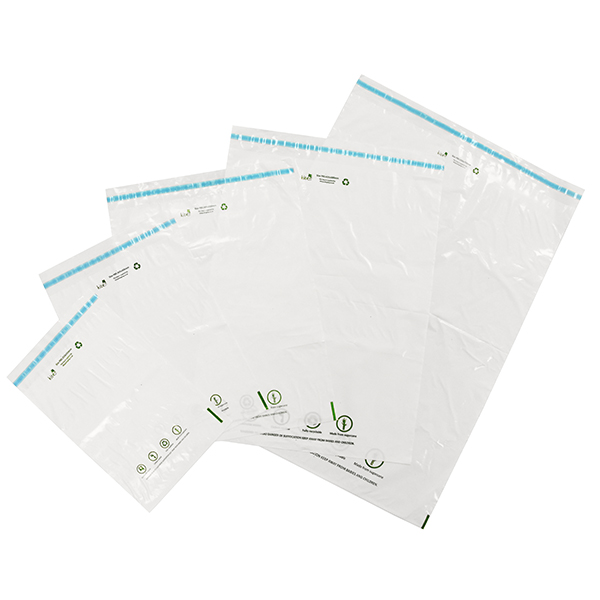 White sugar cane envelopes are an excellent direct replacement for polythene. The mailing bags are made from sugar cane bygasse that creates the same physical makeup as polythene, meaning that the properties are near identical and no functionality is lost by making this sustainable switch. The crucial difference is that these bags absorb carbon gas from the atmosphere while the sugar cane grows, offsetting that which is omitted during its manufacture. As such, the material is carbon neutral. Moreover, the fossil fuels involved in polythene's construction are not used at all here, reducing our dangerous reliance on them. The sugar cane is also grown on reclaimed land so that our rainforests are not impacted.
Alternative to: Polythene mailing bags
Environmental Credentials:
Made from sugar cane, the greenest material on the market
Carbon neutral manufacture
Fully recyclable
Solid board edge protection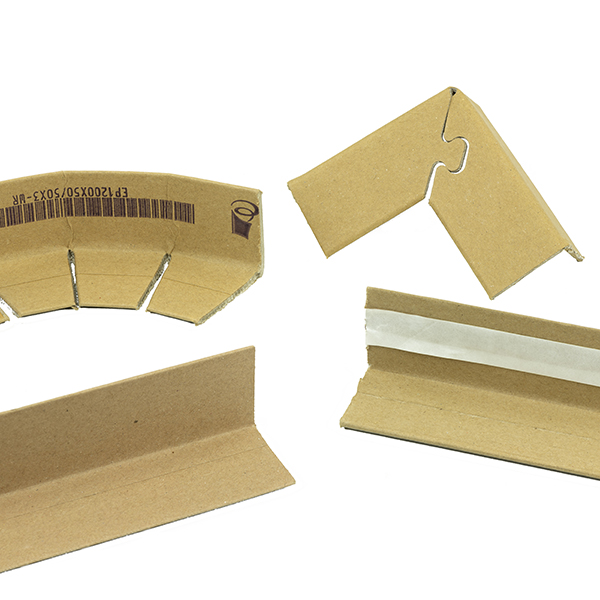 Historically, polyethylene foam has always been necessary to fit around and guard the edges of items such as furniture or pallets. This material is large, bulky and very slow to degrade, meaning that it can sit in landfill sites causing pollution for many years. Solid board, on the other hand, is made from recycled materials and can be recycled again after use, feeding back into a circular economy. The recycled particles are densely packed together to establish a robust barrier against the knocks and bumps that are inevitable in a postal journey.
Alternative to: foam protection
Environmental Credentials:
Contains recycled content
Fully recyclable
Plastic-free
Shredded paper & tissue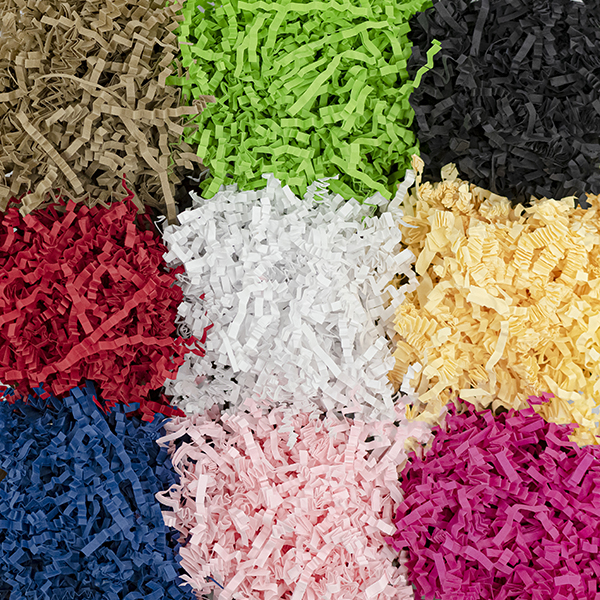 Destroying preconceptions about the wasteful excess of gift packaging, our ZigZag shredded paper is reusable, recyclable and biodegradable. Made from sustainable kraft paper with FSC certification, these 4mm shreds work their way into crevices and corners to reliably prevent movement and ensure the safety of items in transit. The spectrum of attractive colours is sure to enhance your customer's unboxing experience and elevate your entire brand.
Alternative to: Polystyrene Loose Fill chips
Environmental Credentials:
Reusable
Recyclable
Biodegradable
Kraft paper tape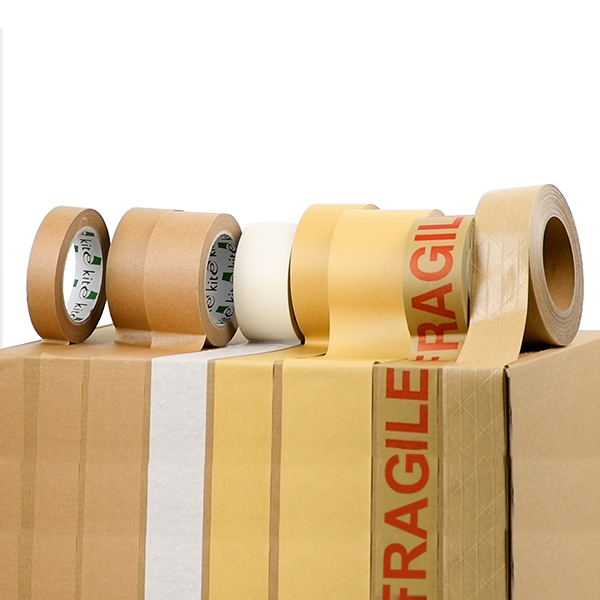 Plastic tapes can easily ruin an otherwise 100% recyclable parcel, causing disruption at recycling plants if they are put out for collection regardless. Kite resolved this with their introduction of fully recyclable kraft paper tape. Available in either brown or white, these packaging tapes are self-adhesive and form strong, long-lasting bonds to dependably secure most boxes. We supply eight different varieties of paper tapes to suit the nuanced needs of most businesses.
Alternative to: Polythene tapes
Environmental Credentials:
Acid-free
Vegan friendly
100% recyclable
Of course, these are just a few handpicked highlights merely scraping the surface of Kite's environmental ethos and product innovations. Almost all of our new products have eco-consciousness ingrained into their design in order to shape a better packaging future for us all. Sustainability is as fundamental as functionality. This is demonstrated by our work to make our entire operation carbon neutral which presents productivity and eco-sensitivity happily working hand in hand.