Essentials For Starting Out – Finale
Kite's Top 5 Packaging Equipment and Machines
Here to brighten up this dreary day once again, we're back with our 'Friday Five', this time looking at the best packaging equipment for e-commerce businesses. This is the final part of our Friday Five blog series 'Essentials for Starting Out' and we hope you've taken some valuable advice from it. E-commerce start-ups are quickly becoming the life-blood of the UK's economic growth, and while it's no easy task we applaude those who have taken the brave step to set up a website and sell products and services they feel passionate about. Thanks to all those who have read, engaged with and taken value from this blog series, we wish you all the very best of luck in your business ventures.
Today's post marks the next step for e-commerce businesses, once established the packing and warehouse operation often expands rapidly and businesses find themselves in a position where their packaging operation is inefficient. The best way to solve this issue is with simple packaging equipment which will speed up the production line, save on warehouse space and reduce costs. Take a look below at our top picks to benefit your business in its next stage of growth, and remember to comment on Twitter - @kitepackaging #fridayfive.
Cheap and Easy: Tape Dispensers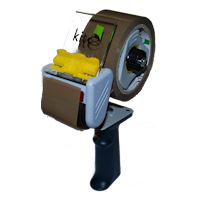 If you're still a little wary of packaging machines in terms of cost a simple way to speed up the packaging operation without having to fork out a larger sum is by introducing tape dispensers for your packers. Tape dispenser guns not only improve packing efficiency but also reduce potential waste as they deliver the right amount of tape for carton sealing each and every time.
Tape dispenser guns should have a 'piston grip' for easy usage, a comfortable grip is essential for your packaging operation so that packers can easily use the dispenser during a 8 hour shift, without cramping or hurting their hands. Getting the right tape dispenser gun for your product isn't difficult either, all tapes including acrylic, PVC, hot-melt and our enviro-tape (if you don't know what these are check out last week's sealing post) can be used in a standard gun. Kite's tape dispenser guns meet all these requirements, and include an adjustable brake which allows you to control the speed of the tape release.
Gift Packaging and Polythene Bags: Heat Sealers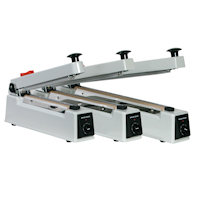 Polythene bags and tubing is always a key recommendation of ours when receiving enquiries about packaging small items such as sweets, chocolate, craft items and gifts as it is light-weight, durable and can be customised to specific sizes to suit the customer. The way to size these bags and seal them in the most professional way is with a heat sealer. Heat sealers are incredibly easy to use and can come with cutters, which are used with polythene tubing to create customised bags, great if you are sending out a variety of products in different quantities.
A basic table top heat sealer would be best for smaller packaging operations, and is a relatively small investment (prices start at £49.00) in terms of the efficiency benefits it brings. Heat sealers can be used with all kinds of polythene bags and reduces the need for tape and staples, a sometimes messy and time-consuming way of sealing plastic. If you are unsure on how to use a heat sealer you can view our product demonstration video on the heat sealer page.
Pallets: Strapping Machines and Wrap Machines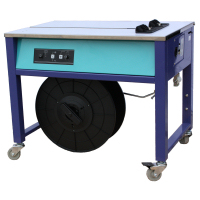 If you ship large items, pallets will be your main source of sending out products and require wrap or strapping to make sure the pallets stay rigid and the products within it are protected. We recommended strapping and pallet wrap in our last post, and as your packaging operation expands these will need to be applied using machinery to push products out to customers at a fast rate.
Pallet wrap machinery allows packers to place a pallet on a rotating platform and apply wrapping using a semi-automatic method. The machine can detect the size of the pallet and apply the wrap accordingly in seconds. This is recommended for large pallet users and dispatch departments so for smaller operations an extended core pallet wrap is recommended, allowing the user to grip the roll and apply by hand.
Strapping machinery is another great tool to improve the packing operation; a semi-automatic strapping machine is best for when your operation is still growing. Packers can feed strapping in by hand as it applies it to packages and seals. This is also great for avoiding the common problem of too tight or too loose strapping, giving a professional finish to your goods.
Environmentally Friendly Business: Shredding Machine
Cardboard waste is a common issue for businesses large and small is often disposed of in a way that has huge impact on the environment. Using a cardboard shredding machine means that waste is compacted in to strips, reducing the amount of space it takes up and giving an easy way to dispose of board. More and more we are seeing customers use the left over strips for void fill, a huge cost saver and an effective way of protecting products and stopping them move around in transit.
Void Fill: Brand New Product - Kite Mini Air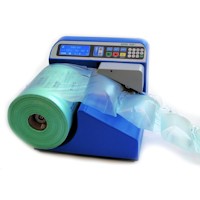 Air cushions are being used more frequently within pack operations as they provide a much more cost efficient and application efficient solution to void fill and other protective products. We are able to reveal exclusively in this post that the Kite Mini Air machine will be launched Monday, and be the cheapest air cushion machine on the market at £599. Air machines can produce small quilted wrapping (an ideal alternative to bubble wrap) as well as filler air cushions which can be used as void fill or block and brace. As well as the cost benefits an air cushion machine is an incredible space saving tool, anyone from bedroom eBay start-ups to large packaging lines can use it, and compared to large rolls of bubble wrap and huge bags of polystyrene chips an un inflated roll of air cushions takes up very little room.
Air cushion machines are very easy to use and require little maintenance, with the Kite Mini Air much of the maintenance can be done by the user and a 'how-to' guide is provided with the machine. Look out for all the information on it on Monday.
Finally.Our Software Pick for E-Commerce: MailChimp
To be honest you've probably heard of MailChimp as it's a brilliant tool to send out marketing emails. When building an e-commerce business emails are a relatively low-cost way to engage and inform your audience about your products and latest news. There are over 400 templates to choose from on MailChimp so that you don't have to design your email completely from scratch and you can create multiple subscriber lists to send specific emails to. Mail Chimp also allows you to change the 'From' bit of your email, perfect if you offer a number of services and want to target your messaging, and it integrates with many other applications including SurveyMonkey, PayPal, Google Analytics and SalesForce to name but a few. If you have less than 2,000 subscribers MailChimp offers a free version of their service, as your subscribers increase a monthly pricing plan is introduced which starts from $10 (about £7) a month.
If you have any comments about this post, or would like to get in touch, follow us on Twitter - @kitepackaging
Please note that Kite Packaging is not connected to or endorses Mail Chimp