'Excess Packaging' - is it really unnecessary?
We often hear of online retailers using way more packaging than is necessary to send out goods, which not only seems wasteful but can be bad for the environment too.
However, there are often valid reasons for small items being sent out in large packages and products seemingly being wrapped in a whole roll of bubble wrap. Our packaging experts look into this contentious topic and answer some of your excess packaging questions:
Why use a large cardboard box for sending out small items?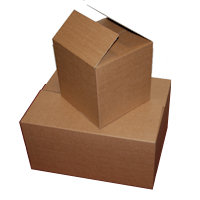 You may notice that some of our larger cardboard boxes are priced cheaper per box than smaller sizes. At first glance this may not make much sense as they use more corrugated board, but when you consider that the most popular large sizes are produced in far greater quantities the production costs are actually lower than for the less popular small boxes.
Secondly, companies can save a lot of money by consolidating packaging lines and sticking to a few standard box sizes rather than having to purchase and store a wide range of cartons. No matter what size you order, you can save money by ordering in bulk and this often requires sticking to 1 or 2 sizes.
It therefore makes sense to source boxes than are large enough for the majority of goods that are sent out, and this often means that smaller items will simply have to go in boxes that are not the ideal size for them.
However, with the aid of our Mixed Pallet ordering system, our customers don't have to restrict themselves to a few box sizes in order to get the best pricing. As long as you fill a pallet, you can mix and match the sizes that are most suitable for your products.
Why have I been sent a box full of air?
When the box used is larger than the item being packed, some form of in-the-box packaging is needed for 'block-and-brace' - i.e to hold the product in place and stop it rattling around inside the box.
Air cushions are some of the most versatile and effective packing solutions, and look like plastic bags filled with air. They are great for cushioning and protecting products, but can also be used to fill voids in a box and stop the contents from moving about. In many situations, using these inflated air bags can be better value and quicker than using scrunched up paper or polystyrene chips.
Does this product really need several layers of bubble wrap?
Bubble wrap is one of the first things people think of when it comes to protection. The air bubbles help to cushion the product and protect it from impact. Most cheap bubble wrap suffers from air 'creep', where the air inside the bubbles slowly escapes and the material loses its cushioning. To reduce this, packers simply wrap the product multiple times.
However, a more efficient solution is to switch to a co-extruded 'barrier' bubble like our Jiffy Astro Suprabubble Bubble Wrap. This uses a special layer to stop the air escaping and maintain optimum cushioning.
Why can't the item simply be put in a mailing bag and mailed out as it is?
Parcels can undergo quite rough treatment as they pass through the postal system or courier network and are handled by many people. Even if it is covered in 'FRAGILE' tape, the product you ordered may not be given the proper care and attention you feel it deserves on its journey.
Items may need to be protected from impact damage, scrapes, crushing, moisture, electrostatic discharge and more. When goods need to be replaced due to damage in the post, the costs involved are often far greater than the cost of the product itself, and are a major loss of revenue for many online retailers. More importantly, it can damage a business' reputation if goods are regularly sent out damaged. With this in mind, it is easy to understand why some may over-do the packaging rather than risk using too little.