Clever Designs You'll Instantly Recognised
Food packaging design is big business, and is constantly moving forward to enhance customer usability, improve shelf velocity and appeal to a wider demographic. There are some amazing packaging and graphic designers out there and if you follow us on Twitter or Pinterest you'll see Kite are all about championing the work of these artists. Packaging is perhaps not the most glamorous industry but packaging design and technology is what allows us to be as creative as possible.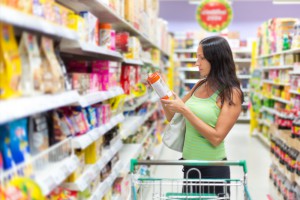 With so many designs constantly coming out the only difficulty for designers is to make their product stand-out. But what makes packaging iconic? It could be the feel, how it opens, the colours and the shape, but most importantly it is something that is memorable, something that you could spot out of the corner of your eye in the supermarket and instantly know what it is.
In today's post we'll be looking at the classic food packaging designs that embody all of the above, the recognisable shapes and colours that mean you instinctively know the product. Take a look below at our packaging icons, and tell us what your biggest packaging icon is on Twitter - @kitepackaging
Mini Babybel
A favourite among kids and adults alike, Babybel's are a well-known lunchbox treat, but what would it be without its red wax packaging? These bite-size treats are sold in netted bags and encased in thick red wax which peels off to reveal the cheese. Since its launch in 1977, Babybel has released several other flavours including cheddar and gouda with different coloured wax cases.
Babybel wax is made from a mix of paraffin wax and micro-crystalline, and has been designed so that there is no health risk if you accidentally eat the wax (mums take note!). Babybel also contains no Bisphenol A (BPA), a plastic compound which has been involved in some controversy regarding the use of it in food packaging - back in 2011 Babybel competitor Dairylea came under scrutiny for using it in its packaging.
Fun Fact: Over a billion Mini Babybels are produced per year, if they were lined up they would reach right around the coastline of mainland Britain not once but two times!
Pringles
The concept of packaging crisps in tubes was a stroke of genius, and the Pringles tube is surely an icon of the snack isle. The product first launched in 1967 and the packaging was designed to tackle customer complaints about broken potato chips and too much air in the bags they came in. Fredric Baur invented the saddle shape Pringles still come in today and designed the paperboard can, which is lined with foil to keep the snacks fresh and sealed with a re-sealable plastic lid and air-tight paper seal.
Pringles are the ultimate resealable container, and after we took a look at Pack Rage a couple of weeks ago on the blog, stand for everything a customer wants from a resealable pack - ease of use, prolonged freshness of the product and protection. However, in households around the world Pringles don't often need to be resealed, its moreish flavour certainly upholds the brands tagline - once you pop you just can't stop!
Fun Fact: When Fredric Baur, the creator of the Pringles can, died, his request was honoured to be buried in the famous container. His children placed his ashes inside a Pringles can and buried it in his grave.
Capri-Sun
Another triumph for the lunchbox, Capri-Sun pouches of juicy drink are a staple in everybody's childhoods and the perfect soft drink for throwing in to any sized bag or backpack. Rudolf Wild was the creative behind this development launching the pouches in Germany back in 1969.
The design concept is uniquely clever; the pouch is made from laminated foil and appears rectangular when flat. However, the bottom of the pack has a flat bottom and gusseted sides so that, when filled, it can stand upright on a table or any other flat surface to avoid spillage. When unopened Capri-Sun's display amazing leak-proof ability, the strongly welded sides and laminated coating have excellent burst strength and the hole where you insert your straw has been designed to only allow for sharp points to go through.
Fun Fact: Capri-Sun is distributed by Coca Cola in the UK and Kraft Foods in the US but is solely owned by WILD, chaired by Hans Peter-Wild, the son of Capri-Sun's inventor.
Kite's Favourite.Toblerone
There's something about that triangular shaped chocolate that makes us feel happy, a nougat treat that is as much a staple at Christmas as Santa and Holly. But what makes it stand out from all the other tasty treats? The triangular prism shaped packaging of course! The gold box has been around for literally centuries, since the Swiss chocolate bar was launched in 1868 by Theodor Tobler.
The great thing about the shape of the Toblerone is that it lends itself to different sizing and proportions, as the robust structure of the bar isn't prone to snapping or breaking like some rectangular bars. Customers can buy bars ranging from 100mm to a metre in length, making the product versatile for lunchboxes, snacking, sharing and gifts. The packaging is also brilliant for shelf velocity, because the product can never be lay flat and overlooked by consumers. It is made from cardboard packaging, in a perfectly equilateral shape, so that it can be placed on any side and still proudly displays the red and gold Toblerone branding. The chocolate is also wrapped in foil to maintain freshness, reducing the problem of discoloured chocolate which is caused by moisture getting in to the packaging, it also makes the product much more presentable and gives the customer a sense of luxury when opening.
Fun Fact: The inspiration behind the triangular shape of Toblerone is a mystery, some believe it is reflective of the Swiss mountains where Theodor Tobler grew up, however his sons have suggested he was actually inspired by the Parisian dancers of the Folies Bergres, who dressed in red and cream frills and formed a pyramid shape at the end of each show.
If you have any comments about this post, or would like to get in touch, follow us on Twitter - @kitepackaging
Please note that Kite Packaging is not connected to or endorses any of the products or companies mentioned above.