That's right, lovely stuff for free…from Kite Packaging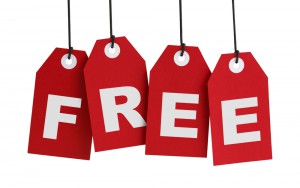 Apologies for the shamefully attention-grabbing blog title, but we'd hate for you to miss out on all the exciting updates we have going on this week – and don't worry many of these updates include something for nothing, you haven't been mis-led. For our regular customers you'll know that when you buy in bulk from us we can offer fantastic prices that mean you save money, which is brilliant if you have extra warehouse space or use a lot of one product. We also offer free standard delivery all year round on orders over £100 so that you don't have to pay premium for an excellent service.
If you are a smaller business this space may come at a premium, which limits you in terms of bulk buys. That is why we have introduced products such as the Mini Air machine, the air pouches are created as and when need from rolls of flat film – ideal if you have limited space and use void fill regularly. The Mini Air film rolls take up much less space than bubble wrap or polystyrene chips. As well as this we recommend using alternative methods of packing to save space, for example if your product is small would it be more suited to a padded mailing bag than a box? We also supply most of our product flat-packed, and offer great savings on pallet loads such as a mixed pallet of boxes which allows you to create a customised pallet of various box sizes and styles. Amongst these are our heavy-duty archive boxes, the first update this week...
Heavy Duty Archive Boxes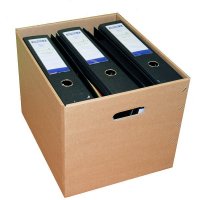 Our heavy duty archive boxes are part of our stationery box range as they are perfect for storing documents or heavy files in offices and at home. They have convenient hand-holes for easy lifting, and are manufactured from high quality Kraft board which offers burst resistance as well as superior strength. These boxes are also favoured by the removals industry as they are brilliant for transporting smaller items from place to place such as crockery, ornaments and linen.
Yesterday we increased the pack sizes of these boxes from 5 to 10, which meant we could reduce our prices and deliver the savings directly to our customers. Our new prices mean that even if you buy one pack of boxes you'll get each box at an impressive £1.97 each. Big enough to hold 3 lever-arch files, these boxes are incredibly versatile – you're welcome!
Blue Stretch Film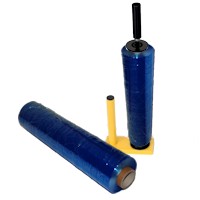 For those of you who are on our mailing list you will have received an email only yesterday detailing our most recent offer on blue stretch film. Blue stretch film is typically used in the food industry as it is universally recognised as food packaging, to make it easy for pallets to be distinguished. Our blue stretch film is 17 micron thick which is known as a medium duty stretch and made from a material that is food contact certified. This means it is free from chemicals that can affect food products such as CFC's and pesticides.
Currently, when you buy five or more packs of blue stretch film you will receive a hand stretch film dispenser absolutely free! This dispenser normally retails at £19.99 and can be used with various types of stretch films rolls, in different core diameters and lengths. Best of all the dispenser has twist grip handles which offers comfort and allows the user to adjust tension while wrapping for a more secure pallet. You need to be quick though - offer ends 31st January.
Facebook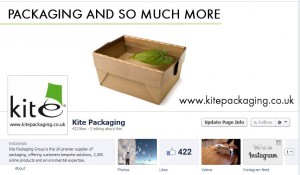 We've had a great drive on Facebook this week to increase our Fanbase and as a result have had a surge of likes on our page! This is brilliant news, and means that we can deliver even better content to our Facebook fans including some brilliant competitions and giveaways which are not too far away.
To kick off, at the end of this week we'll be giving each and every person who likes and shares our page a little thank you gift! To find out what it is hit the like button now!
What's Next?
Stay tuned for even more brilliant deals and new products, we've always got a few goodies tucked up our sleeve…