Get Ready for Peak Packaging Monday with Kite
You may know the retail phenomenon that is Black Friday, and its younger sister Cyber Monday, but have you heard of Peak Packaging Monday, the somewhat more practical parent of the two without which neither would exist?
The term 'Cyber-Monday' was first coined in 2005 to cater to the increasing number of customers who preferred shopping from the comfort of their living room to the manic chaos of brick-and-mortar retailers.
Despite the post-pandemic fall in demand for ecommerce, the industry continues to grow with online sales reaching over £2 billion in 2023 so far according to the Office for National Statistics.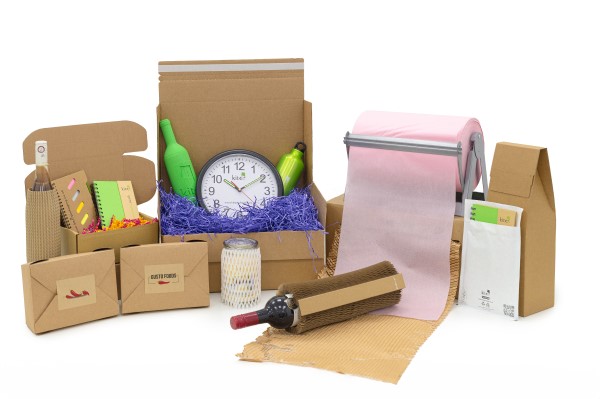 What is Peak Packaging Monday?
The term, created by our Managing Director Gavin Ashe, represents a single day in the packaging industry when sales rise to peak levels for the year. As the Christmas season approaches, businesses experience growing demand for their products and services, but many are often unaware of the increased demand for packaging this leads to, making packaging suppliers incredibly busy. It is imperative, therefore, to secure your packaging supplies ahead of Peak Packaging Monday to ensure you are well-prepared.
In today's fast-paced e-commerce landscape, customers expect rapid order fulfilment, making efficient packaging a key factor in meeting these expectations. Effective packaging allows businesses to maximise their sales potential in these busy times. We supply a range of ecommerce-ready packaging to help streamline your order fulfilment and reach your full potential.
The appeal of online shopping is centred on the expectation of efficient order processing, a convenience valued by individuals with hectic schedules. Having a high level of packaging inventory is essential to upholding great customer satisfaction as not only does it reduce the risk of delays, but it also enhances the likelihood of securing repeat sales.
When is Peak Packaging Monday?
This year, Peak Packaging Monday falls on November 20th, marking the Monday preceding Black Friday, November 24th, and Cyber Monday, which follows on November 27th. Positioned strategically before these lucrative marketing opportunities and periods of significant growth potential, Peak Packaging Monday provides an opportunity to replenish your packaging supplies, preparing you effectively for the entire holiday season.
In the world of e-commerce, having first-class, purpose-designed packaging at your disposal is an invaluable asset for achieving success.
What products will be the best sellers?
Ecommerce boxes
With the shift from in-store to online, especially with big shopping events like Black Friday and Cyber Monday,
e-commerce boxes
, with their quick assembly and enhanced ability to display products, are guaranteed to be best sellers. These are equipped with an integrated peel-&-seal strip to facilitate assembly within seconds while a tear strip heightens user satisfaction by providing an easy means to open their packages. These are 100% recyclable and biodegradable.
Book wrap mailers
Our
book wrap mailers
are perfect for transporting your favourite novels safely through the post. However, their use is not only limited to books as they can also package documents and files, journals and notebooks, art prints, photographs, small electronics, and any other kind of small and flat items which fit the dimensions. Book wrap mailers are easy to construct thanks to their pre-creased folds and peel-&seal strip, as well as enabling effortless unpacking thanks to a tear strip.
Our book wrap mailers comply with
Royal Mail's PiP
guidelines, placing the power in your hands when it comes to regulating your postage costs. They are 100% recyclable.
We have reduced our prices for good! You can now enjoy 15% discount on all sizes of book wrap mailers.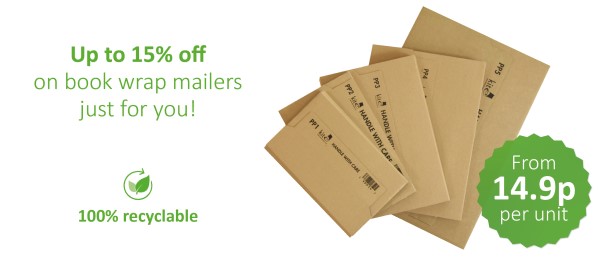 Shredded and tissue paper
Want to protect and enhance the appearance of your products? Our
tissue
and
shredded papers
are excellent for filling voids, and interleaving and wrapping products, keeping your goods safe from surface scratches and abrasions during transit. What is even better is that they are chlorine and acid-free, ensuring no toxins are released and any goods packed for prolonged periods do not get tarnished. Shredded and tissue papers provide a great opportunity to match your packaging to brand colours or seasonal occasions, creating an enjoyable unboxing experience for your customers with a touch of luxury. Both shredded and tissue papers are recyclable and biodegradable.
If your company moves products quickly, then our
gummed paper tape
and
electronic dispenser
are ideal for you. Packing at high speeds whilst ensuring quality and security, this tape and dispenser will not only help to speed up your order fulfilment whilst ensuring your packaging methods are kind to the planet. Our gummed paper tape is water-activated, fully recyclable and biodegradable, and tamper-evident. Dispensers are compact and can aid seamless integration into existing pack stations and areas.
Custom labels
For affordable yet effective customisation and branding opportunities, look no further than our
customisable inkjet labels
, perfect for making your brand and products standout against the competition. A simple peel-and-stick design allows the labels to adhere effortlessly onto a wide range of surfaces, providing consistently professional results each time. Not to mention, personalisation can be matched with tissue and shredded papers used for interleaving and void fill to further consolidate your branding.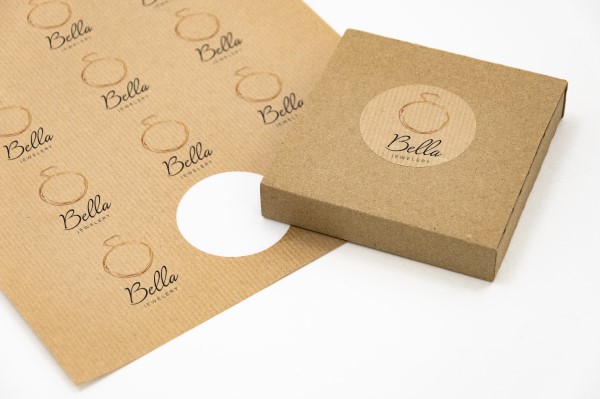 Stay ahead of the game this Black Friday and Cyber Monday by stocking up on your favourite packaging this Peak Packaging Monday.