Happy Birthday Envirotape!
Our Environmentally Friendly Rolls Are One Years Old
We can hardly believe it's been a year since we launched our trusty Envirotape – a huge product launch for our business, and one that has improved the packing operations of many customers thanks to its cost-saving benefits. To celebrate the official birthday of Envirotape we have some exciting news to share, with the launch of a brand new product to help with your dispensing needs.
Why Envirotape?
First of all though – why choose Envirotape? You may have noticed recently that we have changed the layout of our tapes page so that all your favourite packaging tapes are together. This is not just because we love you and want to make your lives easier, but also so you can compare prices and materials all on one page. The key thing to note about Envirotape is that they are much longer than an average 66m roll, stretching to 150m. Now, the price per metre of all our tapes is less than a penny so let's compare the 66m equivalents:
A roll of Vibac standard hot-melt tape is 64.7p per 66m roll…
…and the equivalent of 66m of Envirotape hot-melt is just 47p – that's a 27% cost-saving!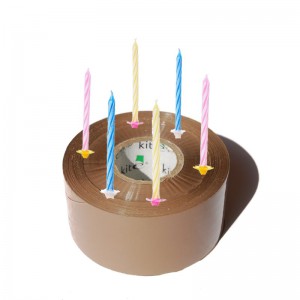 Not only is Envirotape cheaper but of course, as you can tell by the name, it is a lot more environmentally-friendly. The rolls have been made longer by the significantly smaller cardboard core; these cores have been developed to reduce the amount of rolls needed for a particular business/job and results in a saving of 63% on cardboard waste. Of course the reduced number of rolls needed mean more pallets of Envirotape can fit on to a truck, meaning less CO2 emissions – another environmental benefit for you and your business.
Real Customers, Real Savings
Since our Envirotape launched back in 2013 we have been working with customers to ensure that we deliver on our cost-saving promises, and make the product work for real businesses across the UK. One of the great features on our website, which now features on the newly improved Envirotape page, is the Envirotape calculator.
This handy little tool allows you to input your current tape useage, including price and order quantity, choose the type of tape and generate some fascinating statistics. We've designed the calculator to generate everything – from efficiency savings in terms of roll changes and space, environmental savings such as CO2 emissions and waste as well as the all-important cost-savings – calculating how much you could save per year when switching to Envirotape.
We've had some great feedback from our customers about how Envirotape has helped their businesses – one customer, a large furniture retailer based in the UK, made an annual saving of £3600 after switching to Envirotape last year.
New Dispensers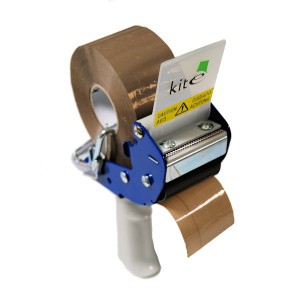 To celebrate a year of success we have introduced a new tape dispenser to our range, which is perfect for sealing cartons and packages with Envirotape. These new dispensers are much more lightweight than other tape dispensers on the market, weighing in at under 400g – this makes high volume tape usage much easier and good for taping boxes of fragile goods. The new dispenser – dubbed the 'Universal Tape Dispenser' – is particularly unique as it doesn't have a traditional core to load the tape on to but a metal hinge – ensuring it can take both 38mm diameter Envirotape as well as 50mm standard tape, it is also a much easier mechanism making roll changes much more efficient. Other features include a retractable safety blade, ideal for large operations where equipment is often passed around, and low noise features for those of you who can't stand that 'off the roll' sound!
What's more, as a special offer to all Kite customers, when you purchase 5 boxes of Envirotape you will receive a Universal Tape Dispenser absolutely free! And if you're still not convinced take a look below at our comparative video…