Happy National Yorkshire Day folks!
Today marks the annual celebration of all things Yorkshire – a day we like to celebrate in style with our Rotherham branch! Over the years, the people of Yorkshire have been revelling in the city's streets with pudding throwing contests and more, so who knows what this year's anniversary will hold. Let's get in the celebratory spirit by talking about 5 things that wouldn't exist without Yorkshire?
1) Stainless Steel
This is a material which the average household could not live without, whether it's a sink, cutlery or a kettle, chances are you've got a stainless steel item in your home – a classic in the kitchen. It is widely believed that stainless steel has originated in 1913 from Sheffield-born Harry Brearley.
2) The first commercial steam train
Salamanca, the first commercial steam train to grace our planet was designed from manufacturer Matthew Murray in 1812 in Yorkshire. He introduced the ever popular twin-cylinder feature.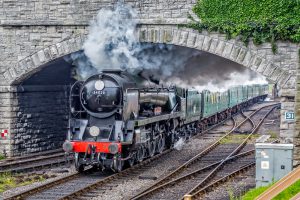 3) The first football club
Nathaniel Creswick and William Prest formed the first ever football club in the world in South Yorkshire. The club, Sheffield FC is the oldest football club to date!
4) Our beloved Marks & Spencer
Marks started up as a penny bazaar stall on a Leeds market, it was established by Michael Marks who then went into partnership with Thomas Spencer in 1894.
5) Yorkshire puds!
Last but certainly not least is our unforgettable Yorkshire puddings, whether it's a Sunday roast or Christmas day – they have got us covered. A real nation favourite which was created by cooks in Yorkshire!
Our Rotherham branch used to sit in the heart of Sheffield but moved to its new site in Rotherham. The £1.5 million investment has seen expansion from 20,000 to 30,000 sq.ft and is the most Northern located branch in the UK. It covers a vast area meeting the Coventry branch at Nottingham, reaching as far as the Scottish borders in the North and spanning the whole of Northern England, from the east to the west coast.
We hope everyone has a wonderful day celebrating…we'd like to end this by wishing everyone a happy National Yorkshire Day!