How to achieve the ultimate small production line – The Packaging Doctor
When business demand is increasing, sometimes it's hard to keep up with the orders and efficiency can take the hit. Businesses need to have the ultimate pick, pack and despatch process in place to ensure production lines can meet the levels of demand. The Packaging Doctor is on hand to help with all your packing operation queries.
Dear Doctor,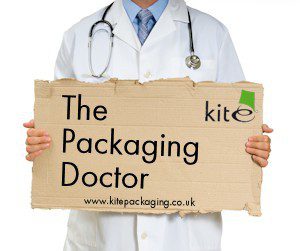 I own a small company that produce organic dog biscuits. Previously we have had a smaller intake of orders, however now the business is growing, we need to consider a small production line for packing and despatching our products. What equipment do you think I need to set it all up?
Thanks,
Joe
Hi Joe,
Thank you for getting in touch – let's see what we can do to help.
Here at Kite, we know how important it is to implement a consistent, systematic structure within your business, especially within the realms of production.
In order to have the right system in place, you need the right automated equipment to make production as straightforward and quick as possible, therefore maximising efficiency levels in the process.
Firstly we would suggest you consider some effective packing benches which are essential pieces of equipment for any packing operation. They not only keep the packing area organised and compact, they provide packers with a clean, space optimising workspace to get the job done. You can choose from a range of sizes and specifications in either our standard packing bench range or our premium packing range.
Now you have the right workstation in place, you should think about installing some conveyors which offer the perfect solution for transporting goods safely and efficiently within the packing area – maximising packing velocity levels. Our Kite conveyors can be adjusted in length and height to fit individual pack room space and can also be flattened when not in use to save space. We have a range of sizes to choose from to accommodate your individual sizing preferences and we also offer connecting hooks, end stop rollers and end stop plates which you can purchase in addition to a conveyor to achieve efficient, space optimising practice.
Lastly, to ensure your packages our strongly sealed and secured, ready for despatch, you should purchase one of our new carton sealing machines. These easy to use machines seal both the top and bottom of boxes. All models are widely used to create time-saving efficiencies in busy packing areas and are perfect with our industry standard machine tape.
Best wishes,
The Packaging Doctor
Note: All the packaging problems our doctor receives are real queries from customers or non-customers. If you have a packaging problem that needs diagnosing get in touch: Twitter @kitepackaging or email packagingdoctor@kitepackaging.co.uk