How to improve "Bad Packaging" – The Packaging Doctor
The number of entries we received for our Bad Packaging competition that ended this week demonstrated a number of examples of poorly packed parcels, excessive amount of packaging materials being used and products arriving to customers in less than perfect condition!
To help you to avoid making the same mistakes as these companies, The Packaging Doctor will be addressing the issues highlighted by some of our entrants' experiences!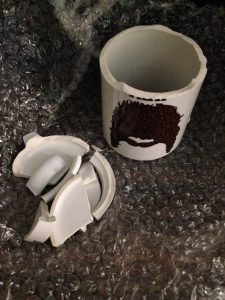 This week, The Packaging Doctor provides an alternative solution for packing ceramic mugs, to avoid products arriving to customers in the condition we can see in the picture sent in by one of our entrants…  
Bubble wrap can be a great protective packaging material, as it can be wrapped around fragile items and used to fill empty space within boxes or packages, reducing the chance the product will move and become damaged during transit.
An alternative packaging solution for this mug and other ceramic products would be to use Kite's Air Shock Pack 1. Air Shock are inflatable air cushioning products, which once inflated create strong, shock absorbing packs that can protect delicate products during transit and handling. Delivered un-inflated, these pouches take up little storage space, unlike bubble wrap and polystyrene void fill.  They are easy to inflate on demand, and are lightweight and presentable, making them an ideal solution to use for e-commerce business delivering orders to customers. The Air Shock range is available with or without an outer cardboard box, which may be preferred if the mug is particularly delicate.
Best wishes,
The Packaging Doctor
Note: All the packaging problems our doctor receives are real queries from customers or non-customers. If you have a packaging problem that needs diagnosing get in touch: Twitter @kitepackaging or email packagingdoctor@kitepackaging.co.uk