How To Make Popcorn Bags – The Packaging Doctor
In large industries food packaging is bulky and stored in large spaces, and because of this it needs to be designed to specific requirements. Our branch businesses service the food industry in many ways but in particular by designing packs that make the most out of 'shelf velocity' – a term to describe packs that utilise shelf space and pallet space to its advantage. You can read more about that and other food specific packaging tips here.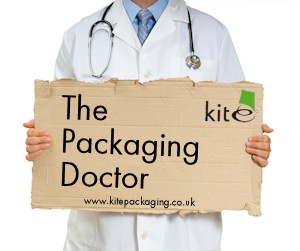 However, many food businesses are much smaller operations that operate in shops or sell their products to the supermarkets and are limited on the branded packaging options available to them. Food is all about looking enticing, and the packaging should reflect that – but often less is most definitely more. Customers need to see the product inside, particularly if it something good-looking such as desserts or bread. Check out next month's Food and Drink Network magazine which features us discussing the various packaging options for food businesses.
In the meantime, I helped out a popcorn business today – take a look below.
Dear Doctor,
I am starting out on a new venture following my passion for cooking and creating my own range of popcorn to sell via my online store.
I have everything ready for my new business; the brand design, a creative range of different flavours however I am struggling on forming a solution for packaging.
What would you recommend?
Thanks,
Simon
 Hi Simon,
Thanks for your question.  It sounds like an exciting time for you starting up your own business! I have the perfect packaging solution for your product to help you prepare for your launch.
Firstly, I would recommend our light duty polybags; these are a light-weight, high clarity solution, hygienically providing safe protection against dirt, dust and moisture, perfect for storing the popcorn.
The bags can then be closed securely with a basic table-top heat sealer, designed to seal plastic packaging and finished off with one of our boxes allowing you to stack them up.
And finally, as an extra tip, to help add that professional finish take a look at our custom logo printed tape combining your company's name and branding to add extra brand awareness.
Hope this helps,
Best wishes,
The Packaging Doctor
Note: All the packaging problems our doctor receives are real queries from customers or non-customers.
If you have a packaging problem that needs diagnosing get in touch on Twitter @kitepackaging or email packagingdoctor@kitepackaging.co.uk