How to pack and present flowers – The Packaging Doctor
In the world of packaging, as well as providing protection, the presentation element plays a huge part in marketing products, making them appealing to the targeted consumer. That's why at Kite we offer packaging that serves a presentational purpose in addition to protection. Let's see how our Packaging Doctor can help with today's enquiry…
Dear Doctor,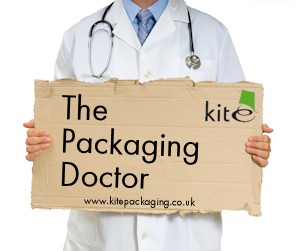 I own a florist which sells a range of flower arrangements. I'm looking for a simple, low cost way of displaying my tulips that looks good. What do you have at Kite that I could use?
Best wishes,
Daniel
Hi Daniel,
Thanks for reaching out – let's see what Kite goods can serve you.
There are three products we recommend to help you achieve the perfectly wrapped flower arrangement you're looking for without breaking the bank.
Firstly, you can choose from our range of acid free tissue paper which we stock in all different colours, including yellow, orange, red pink, violet, blue, green and lilac – so you can find the right colour for your business.
Once wrapped, you can then use our clear polypropylene florist wrap for the outer decorative wrapping. This product is very popular with florists as well as gift, craft and sweet shop because the crystal clear material not only helps protect your delicate products but also makes for perfect presentation.
Lastly to hold the wrap in place, we suggest you use our clear circle labels to secure the tissue paper and clear florist wrap in place. With the help of these three products you can inject some colour and gloss to your packaging presentation, therefore creating the perfect, eye catching display for your flowers.
Best wishes,
The Packaging Doctor
Note: All the packaging problems our doctor receives are real queries from customers or non-customers. If you have a packaging problem that needs diagnosing get in touch: Twitter @kitepackaging or email packagingdoctor@kitepackaging.co.uk