How to pack bespoke products – The Packaging Doctor
Sometimes, in the world of packaging, finding the right protection for products can prove more challenging in certain areas. For example, take packaging for bespoke products, our Kite team know that getting this right is very important for its distributors as often a more tailored product can be closer to the heart. Therefore making sure it gets to its new home in the exact condition it left the packing area is a pivotal part of pick, pack and despatch process. Let's see how the Packaging Doctor can assist with today's packaging query…
Dear Doctor,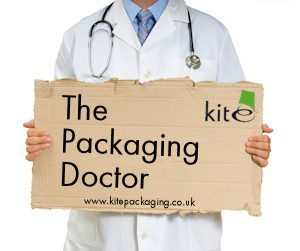 I have just started a small business where I manufacture bespoke wallpaper. I'm looking for some suitable packaging that I can use to send out the wallpaper, keeping costs and damages to a minimum where possible. Can you help?
Best wishes,
Mary
Hi Mary,
Thank you for getting in touch – let's see what we can offer.
The ideal packing solution we recommend is our strong, recyclable postal tubes that can give your wallpaper the effective protection it deserves. A simple yet effective concept, postal tubes reduce package size and postal costs, therefore keeping costs down but maximising protection.
They're manufactured with a strong brown Kraft outer therefore giving a heavier duty finish that safeguards against external factors and enables your customers to recycle the tubes once they are finished with the packaging.
These environmentally-friendly postal agents are the way forward for mailing, providing re-usable and recyclable services for you and your customers! We recommend our largest postal tube for your wallpaper as their metre long protection ensures both ends are firmly secured within, therefore minimising any potential damage.
Also, it's worth noting that all our tubes are supplied with white polyethylene end caps, which are made to fit tightly to ensure the contents remain secure in transit.
Best wishes,
The Packaging Doctor
Note: All the packaging problems our doctor receives are real queries from customers or non-customers. If you have a packaging problem that needs diagnosing get in touch: Twitter @kitepackaging or email packagingdoctor@kitepackaging.co.uk