How to pack books – The Packaging Doctor
For all suppliers, it is important that their customers receive their products in excellent condition. We help a book seller to pack and transport the books that he sells this week in the surgery…
 Dear Doctor,
We sell and ship books of all different genres, size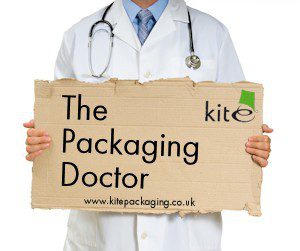 and weight around the UK to independent bookshops. The issue we are experiencing is that even though we lay the books flat into strong boxes and they fit snugly; the corners and edges sometimes get damaged.
What could we do to prevent damage being caused so that all of our books can be perfectly presentable when they arrive to the retailers?
 Thanks,
Jason
Hi Jason,
Thank you for writing in!
One solution could be to tape our Nomafoam L profile edge protection pieces to the outside edges of the box, to provide additional cushioning when the boxes are in transit, which should ensure that the edges are protected to a greater degree. The Nomafoam profiles are available to purchase in longer lengths which can then be easily cut to size to suit the size of boxes that you use. Simply secure these lengths with Kite's economy tape, and then load your boxes to take out for delivery.
If this still doesn't provide the level of protection your books require, the alternative you could consider is using a larger extra heavy duty box, and then securing the Nomafoam edge protection on the inside of the box, before laying the books in the box. Kite's range of extra heavy duty boxes are designed for heavy items, and are extremely robust to help transport goods. These boxes have gone through rigorous testing procedures, including edge crush tests and box compression tests to ensure they can deliver maximum protection to goods. Again the Nomafoam can be secured using tape within the box, and then to ensure the box remains sealed and provide additional strength, you could H-tape the box, which means you would tape across the opening, then across each of the sides to ensure the box is completely sealed.
We hope that you find these solutions ideal for your business and hope your books start to arrive in perfect condition!
Best wishes,
The Packaging Doctor
Note: All the packaging problems our doctor receives are real queries from customers or non-customers. If you have a packaging problem that needs diagnosing get in touch: Twitter @kitepackaging or email packagingdoctor@kitepackaging.co.uk