How to pack bottles in an eco-friendly way – The Packaging Doctor
Protecting fragile goods is an important part for many e-commerce businesses and so when companies look to establish a consistent and reliable packing process it is paramount to get the right equipment for the job. Organisations need space saving, cost-effective packaging so let's see how the Packaging Doctor can help.
Dear Doctor,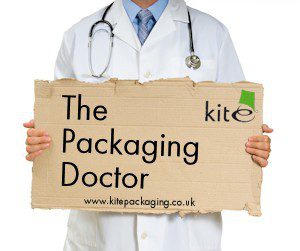 We're a business who sell and send out bottles of chemicals. For us packaging is such a big part to get right as the bottles are breakable and we cannot allow for the chemicals to be spilled. We currently use your loose chips as void fill which protect them but they're using up a lot of space in the warehouse which we're currently quite limited on. We were hoping for an alternative method of protection, can you help?
Thanks,
Melissa
Hi Melissa,
Thank you for getting in touch with us, let's see what else you could be using!
In terms of inner protection, we know how important that part is for cushioning your goods. We're always looking for new, innovative ways to maximise the interior package protection and recently we've been growing our eco-friendly product list. An alternate, effective way of protecting your bottles would be our paper range protection which comes in a range of shapes and sizes thanks to our paper systems.
By using protective packaging manufactured from a paper-based, renewable source, you can remove the need for single-use plastic whilst also enforcing an environmentally friendly work ethic amongst your workforce. Paper-based solutions can still provide the necessary protection for stock but with one major difference – the biodegradable properties.
If you require an automated system which distributes paper void fill with speed then we recommend our SpeedMan classic machine which maximises efficient packing for higher volume pick, pack and despatch. For lower volume packing we recommend a more manual approach, you can purchase a SpeedMan box, a low cost, ready to use paper void fill system which requires very little storage space.
Both paper-based packing systems are environmentally friendly and provide great internal protection via their 100% recyclable composition. Therefore you can maximise your packaging void fill protection, save space in the warehouse and improve your eco-friendly packing procedure all in one swift change.
Best wishes,
Kite Packaging
Note: All the packaging problems our doctor receives are real queries from customers or non-customers. If you have a packaging problem that needs diagnosing get in touch: Twitter @kitepackaging or email packagingdoctor@kitepackaging.co.uk