How to pack bottles of cider – The Packaging Doctor
Many businesses know every detail of the products they sell, but what about the packaging they need to transport their items safely to the end user? This week, The Packaging Doctor helps a business to find the right materials for their cider bottles…
Dear Doctor,
We need some packaging advice!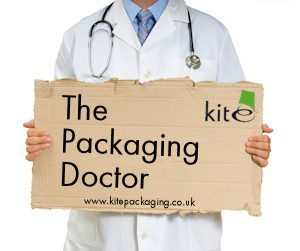 We make and bottle our own cider, and then sell it in local stores and online. Obviously we need all of the bottles to arrive without getting broken – but do not know what type of packaging we should use!
What would you suggest?
Thanks,
Robert
Hi Robert,
No need to worry – we have some great packaging solutions for you and your business!
Firstly, if your bottles of cider are particularly expensive and need to be sent far distances in the post, we would recommend using our Air Shock packaging. These inflatable pouches are ideal for bottles as the protective pouch surrounds the product to ensure it is protected completely during transit. These ensure peace of mind, as the pouches have been tested and proved to keep delicate items such as bottles intact. Delivered flat packed and easily inflatable when required, the Air Shock range is a flexible packaging option and when purchased with an outer box, you can deliver the bottles to customers safely and securely.
Alternatively, we can provide a more economical solution that you may prefer. Our boxes with dividers are specially designed for packing and shipping bottles, and are a great way to post or deliver multiple bottles within one parcel. These boxes are made from heavy duty cardboard that will take any impact during transit or handling, and the internal dividers help provide additional strength and stability to protect the bottles within. Available with 6 or 12 bottle capacity, you may find this particularly useful to deliver multiple bottles to stores or to customer who choose to purchase a range of your ciders.
With either option, you can finish your packages with handling labels to encourage couriers and the retailers to handle the items with care, and you can choose from a variety of tapes to ensure your boxes are securely sealed.
We hope this helps you to decide what packaging materials to use, and hope that we will have the opportunity to work with you soon!
Best wishes,
The Packaging Doctor
Note: All the packaging problems our doctor receives are real queries from customers or non-customers. If you have a packaging problem that needs diagnosing get in touch: Twitter @kitepackaging or email packagingdoctor@kitepackaging.co.uk