How to pack car bumpers – The Packaging Doctor
This week, The Packaging Doctor helps a customer who buys and sells car parts, and helps to solve their packaging dilemma as to which products are best to use...
Dear Doctor,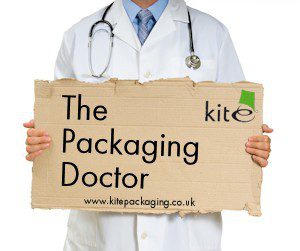 I buy and sell car parts and have been using bubble wrap to protect the items when I send them out to customers. It seems to work well for many items; however I am now trying to sell more car bumpers, which I think require more packaging to protect them as they are being delivered.
What would you suggest I use as well as bubble wrap or as alternative?
Thanks,
Kevin
Hi Kevin,
Thank you for getting in touch, we can certainly help!
As car bumpers are shaped carefully to fit the front of a car, you will need to protect more vulnerable edges than you would with other car parts. To do this, we would recommend using Nomafoam O profile edge protection. These specially designed O-shaped foam pieces have a split down the centre so that they can be opened and placed over an edge, for example on the car bumper. They provide reliable shock protection, which will protect your bumpers during transit. Available in 2m lengths, these foam pieces can be cut to the correct length for your bumper, which gives you the flexibility to pack different bumpers effectively.
To protect the finish on the bumpers, you could then wrap the entire bumper in a polythene furniture bag. These large, heavy duty polythene bags protect goods from the elements, and are strong and durable so that they can remain intact when handled during transit. They also work effectively to protect the finish of the bumper if it is stored in a workshop or garage, which could be both useful for you packing the items before dispatch or when the customer receives the items but doesn't need to use it straight away.
To secure the polythene bags, you could use custom logo tape, which will help promote your brand to customers. Printed with your own company logo or message, these tapes are available in polypropylene or PVC material, depending on the finish you are looking for. You can also choose to have one, two or three different colours printed onto the tape, which can help to make your logo stand out and be visible to customers.
We hope that you will find this solution effective, and if you would like advice for any of the other items you pack, please get in touch with our Packaging Experts!
Best wishes,
The Packaging Doctor
Note: All the packaging problems our doctor receives are real queries from customers or non-customers. If you have a packaging problem that needs diagnosing get in touch: Twitter @kitepackaging or email packagingdoctor@kitepackaging.co.uk