How to pack ceramic plates and recycled glass – The Packaging Doctor
What is the best way to pack delicate items such as glass and ceramics? Luckily we know a certain Packaging Doctor who can advise the best products to use…
Dear Doctor,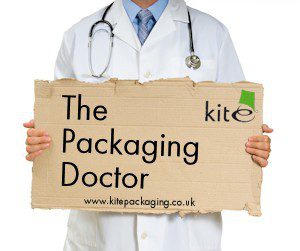 Our business specialises in selling recycled glass and ceramics to retailers, but we keep getting complaints that our items are arriving broken or damaged! This is costing us a lot in collecting items that are beyond repair and losing the value of stock that we have to dispose of.
Typically items that we pack include plates, bowls and bottles, so we need a solution that is practical for all of these items.
What materials can we use to prevent so many pieces arriving damaged?
 Thank you!
Paul
Hi Paul,
Delicate products including glass and ceramics can be challenging to pack and deliver to customers successfully, but fortunately the experts at Kite can help!
Designed specifically to protect items such as glass and ceramics, our Air Shock packaging, available in various sizes,  are ideal for your business!
These air cushion pouches are a great alternative to bubble wrap, foam and other in-box solutions as they provide high levels of protection around your products, leaving no part vulnerable to impact damage. They are delivered to you un-inflated, to keep the amount of storage space required low, and are easily inflated either by hand or using a compressor, depending on the volume of packs you expect to send out to customers. The item can either be placed within the air pouch prior to inflation, or afterwards. This allows the Air Shock system to fit flexibly within your packing operation.
The range includes Pack 4, specially designed for plates as it is less deep than other packs so provides a better fit for these items. For bottles, you may find it useful to use our Air Shock Bottle Packs, where you can pack 1, 2, 3, 6 or 12 bottles together in protective pouches.
Air Shock packs are available to buy with or without an outer box, depending on whether you would prefer further piece of mind by using an additional form of packaging to protect your items. If you do choose to use an outer box, you could seal and brand these with custom logo tape, or address the boxes to customers using our inkjet and laser labels, which can be printed or written on and have a high quality adhesive that ensures the label adheres to the box well.
Find out more about the Air Shock range and watch demonstration videos that show the range being tested. Call our Packaging Experts who can arrange for samples of the product to be sent to you for you to test yourself!
Best wishes,
The Packaging Doctor
Note: All the packaging problems our doctor receives are real queries from customers or non-customers. If you have a packaging problem that needs diagnosing get in touch: Twitter @kitepackaging or email packagingdoctor@kitepackaging.co.uk