How to pack ceramics – The Packaging Doctor
Here at Kite, our team of innovators and packaging technologists know how important it is to ensure businesses have the right protection for their goods. When posting products, businesses want and require packaging that protects their contents and stops goods being damaged. The Packaging Doctor is on hand to assist with all your packaging protection questions.
Dear Doctor,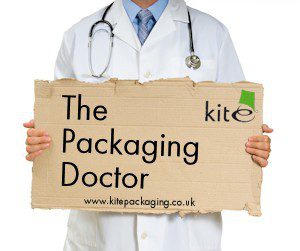 I own a business which specialises in ceramics, in particular, I have some ceramic dog bowls which the dimensions of are very unusual. This makes it virtually impossible to find the right packaging for them, meaning I get an untold amount of breakages and damages when posting the bowls in my current, unsuitable packaging. I need some new, reliable protection for my bowls so that this problem does not continue to damage my business!
Many thanks,
Sally
Hi Sally,
Thank you for reaching out to us – let's see how the Packaging Doctor can help.
We know that protecting fragile items during transit can often prove challenging which is why we developed a robust, cost-effective cushioning range called Air Shock. The products in the range provide a premium alternative to bubble wrap, foam fittings, divider packs and other in-box solutions and are specifically designed to protect fragile items such as ceramics and ornaments.
There are a variety of specifications to choose from so you can find the right size Air Shock cushioning for your products, ultimately maximising the reliability of protection and therefore minimising the chance of breakages in transit.
We have an Air Shock bowl pack specification which would be ideal for ensuring the safe posting of your ceramic dog bowls and we offer an outer box to go with these which you can purchase in addition to ensure the ultimate protection. The outer boxes for the bowl packs are designed to fit the dimensions of air cushioning, thus removing the stress of trying to find the right size box or outer packaging for posting.
We hope that this has helped with your packaging query, please don't hesitate to contact us if you need anything else.
Best wishes,
The Packaging Doctor
Note: All the packaging problems our doctor receives are real queries from customers or non-customers. If you have a packaging problem that needs diagnosing get in touch: Twitter @kitepackaging or email packagingdoctor@kitepackaging.co.uk