How to pack chocolate lollies – The Packaging Doctor
As we head towards the festive season, we can allow ourselves to indulge in sweet treats guilt-free! This week, the Packaging Doctor helps a customer who wants to pack their chocolate lollies so that they arrive to customers perfectly intact!
Dear Doctor,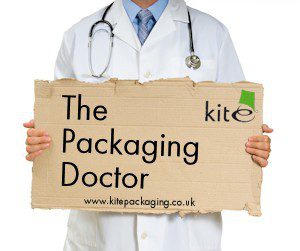 I sell a variety of solid chocolate lollies, in a variety of sizes. I create pictures using different types of chocolate, which can make the products really delicate. We wrap the lollies in foil to keep them fresh, but this does not provide enough protection if we post them out to customers.
I need to pack the items so that the fronts of the lollies do not get broken, but would like them to be wrapped in a nice way for my customers.
What would you suggest?
Thanks,
Lara
Hi Lara,
To pack the chocolate lollies that you sell, we would propose using Kite's white postal boxes, as these high quality corrugated boxes will provide outer protection to ensure the lollies within stay intact. Depending on the size and the quantity of lollies you are packing, we are sure to have a suitable postal box, and they are easily assembled to make packing easy and efficient. They are also a presentable option as they are finished with a white coating.
Within the box, we would first suggest wrapping the individual lollies in small bubble wrap, which would provide some in-box protection and prevent the lollies from causing damage to one another. You could then create a presentable package using coloured tissue paper, perhaps in a colour that matches your brand, as this will add some colour and texture to your parcel.
Seal the boxes with our economy clear tape, custom printed tape or print a design on our circular labels to finish of the parcel or to place on the foil of your lollies with your logo.
We hope you will find this a great option for you and your business!
Best wishes,
The Packaging Doctor
Note: All the packaging problems our doctor receives are real queries from customers or non-customers. If you have a packaging problem that needs diagnosing get in touch: Twitter @kitepackaging or email packagingdoctor@kitepackaging.co.uk