How to pack Christmas wreaths – The Packaging Doctor
Now it is the festive December month, many of us are decorating our houses and businesses with Christmas decorations, such as wreaths! This week, The Packaging Doctor helps a farm business to pack the Christmas wreaths they make...
Dear Doctor,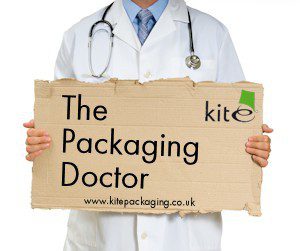 Tis' the season!
We sell Christmas trees on our farm, and have recently started to sell Christmas decorations including wreaths, which have become very popular with our customers.
We want to post them directly to customers once they are made, but they do contain some delicate decorations that would need to be protected so that they do not brake on the journey.
What would you suggest we use to wrap our wreaths and get them delivered to our customers safely?
Thank you for your help in advance,
Wendy
Hi Wendy,
With such a busy period for you and your farm this season, it is important to have the right packaging materials for the job to avoid disappointment!
Depending on the fragility of the decorations on the wreath, there are two options. Firstly, if the decorations are particularly delicate, you could wrap the wreath in small bubble wrap, which would provide the protection required during delivery. Kite stock a range of small bubble wrap that varies in both width and length so that you can choose the amount you require and cut pieces to size suitable for the sizes of wreath you make.
As an alternative, you could use coloured tissue paper, perhaps in festive colours such as green, red or white to wrap the wreaths and create a protected and colourful package. Kite's tissue is acid free and therefore will not cause any effect on the wreath decorations and is bright and fun to make a presentable pack your customers will love to receive!
Once wrapped, we would suggest packing the wreaths into our double wall boxes, which are made from two layers of corrugated cardboard and can provide reliable protection for goods when they are posted or sent by courier. Secure the boxes using custom logo tape, to promote your farm, and add "fragile" or "handle with care" labels so that the couriers take additional care when delivering your wreaths to your customers.
We hope you will find this a suitable solution for your business, and we wish you a successful festive season!
Best wishes,
The Packaging Doctor
Note: All the packaging problems our doctor receives are real queries from customers or non-customers. If you have a packaging problem that needs diagnosing get in touch: Twitter @kitepackaging or email packagingdoctor@kitepackaging.co.uk