How to pack collectable bears– The Packaging Doctor
We know how daunting it can be when sending out expensive delicate items in the post, particularly when they are for a special occasion. The Packaging Doctor is only too familiar with these issues so let's see how the Packaging Doctor can help.
Dear Doctor,
We sell high-quality collectable bears. They are extremely delicate and the people buying them often buy them for special occasions and they are commonly kept as collectable items, so it is vital that they are kept in top condition. We have been experiencing some damage during transit which is extremely costly for us and leads to unhappy happy customers, we hope you can help.
Thanks,
Julie
Hi Julie,
Thank you for reaching out – let's see how we can help!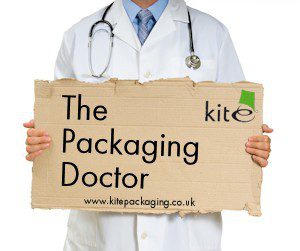 This is not the first time we have had to keep delicate items safe, so we are pleased to offer our advice and support again. We completely understand the importance of secure packaging in such a scenario and can definitely help you.
Firstly, our double wall boxes will be great for you. Made from double wall cardboard (2 layers of corrugated board), they are commonly used for heavy items, however, they also offer extra protection for those delicate items keeping them safe during transit and storage.
Lastly, to safely secure the boxes we recommend either our Kite custom tape if your bears are being sent out to customers. Your own message or company logo can be visibly printed onto the tape, thus ensuring your package stands out from the crowd. If you do not require custom tape, our Kite premium acrylic tape is ideal for customers looking for a high-quality option.
Best wishes,
The Packaging Doctor
Note: All the packaging problems our doctor receives are real queries from customers or non-customers. If you have a packaging problem that needs diagnosing get in touch: Twitter @kitepackaging or email packagingdoctor@kitepackaging.co.uk