Double walled cardboard boxes
Our brown double walled cardboard boxes are designed to offer superior strength and reliability to customers interested in storage boxes for heavy loads or double wall boxes for shipping. Thanks to our diverse range of sizing options, customers can find the right double walled boxes for their particular project. For customers interested in placing high-volume orders, we offer competitive bulk pricing options. You can learn more about our affordable sales options through our easy-to-use customer interface or by contacting our sales team.
Once you've found the perfect double wall shipping boxes for your project, you can purchase them quickly and easily using our simple and powerful online checkout system. Just select your preferred product, choose the exact sizing options you require and pay.
Recycled content ranges from 60% to 90%.
Unlike our single wall boxes, the double wall shipping boxes feature two layers of corrugated cardboard which are securely glued together. This advanced construction design provides increased resistance to compression forces during shipping, ensuring that your box won't be crushed or damaged during transport. Our double walled boxes are the perfect choice for clients interested in shipping or transporting their products throughout the UK.
What are they used for?
Double wall boxes are one of the most popular types of cardboard cartons for shipping goods via a carrier or postal network.
These strong boxes are ideal for heavy objects, and when stacking is required. They also offer extra protection when shipping sensitive products, as the extra layer of corrugated cushions any impact whilst keeping the box intact.
Double walled packing boxes are perfect for any large-scale transport, storage or shipping operation. Whether you require storage boxes for home or apartment packing, long-term product storage or cross-country shipping operations, our double wall boxes will get the job done. With a wide range of available sizes, companies and organisations can ensure that their boxes precisely match the requirements of the current project. For those planning on shipping very heavy loads, the professionals at Kite Packaging recommend you research alternative packaging options, such as our export and pallet boxes designed to accommodate larger projects. Contact our team to find out the best option of cardboard box packing for your project..
Video:
What type of box do I need?
Compare single wall, double wall, Enviro boxes and extra heavy duty boxes. Discover which is best for your product.
We sell various types of boxes, from standard duty single wall to extra heavy duty.
Single wall boxes are identified by the prefix 'CSW'.
Heavy duty Enviro-boxes have a clear 'Enviro' print on one of the flaps.
Double wall boxes have a code starting 'CDW'.
Extra heavy duty boxes are labeled XHD on one of the flaps
Our single wall boxes have a single layer of corrugated board. They are our best value option for packing lightweight goods. Enviro-boxes are made from a thicker and more rigid single wall board. These are suitable for slightly heavier goods. Double wall boxes have 2 layers of corrugated board, making them our strongest general-use boxes.
Extra heavy duty boxes are manufactured from extremely strong cardboard and are suitable for very weighty goods.
Video:
How to use multiscored boxes
Learn how to adjust the height of multiscored boxes using one of our safety cutters.
Watch a demonstration video on how to adjust the height of multi-score boxes using one of our safety cutters.
Many of our cardboard boxes have multiscore lines that allow the height to be adjusted.
We sell a box cutter that enables this to be done quickly and safely, due to its retractable blade.
Multiscore lines are clearly visible, see table on the product page for their height.
Using the knife, cut down each corner to the height you require.
Insert your items, then fold down the flaps to the new height.
Video:
How to measure a product
A demonstration on how to measure your product correctly, and choose the right box.
Step 1:
How big is your product? Standard box dimensions are given in the order length x width x height. Measure the length with a tape measure. Next, measure the width. Measure the height/depth.
Step 2:
Select a box that is slightly larger in all 3 dimensions. This will allow for extra padding to protect your product. You will need the INTERNAL dimensions of the box. Depending on the board grade, this could be up to 10mm less than the external dimensions. To check that your box is the correct size, measure the length, width and height on the INSIDE of the box. All dimensions provided for our boxes are internal.
Step 3:
Wrap your product in a suitable padding material and place inside the box. It should be a snug fit to prevent movement.
Step 4:
Close the box and seal with tape or strapping as required. Consider our custom logo printed tape for a cost-effective branded sealing option.
Other videos: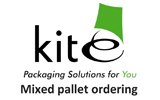 How to order a mixed pallet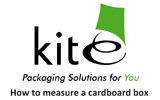 How to measure a box