How to pack electronics – The Packaging Doctor
Here in the surgery, we meet a wide range of customers with specific requirements. Whether it's protecting a wedding cake in transit, packaging customised handmade socks or even protecting a sensor, all is important and necessary to protect and we love giving our expert advice.
Dear Doctor,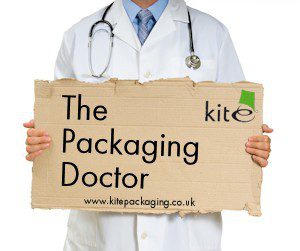 My business focuses on producing sensitive electronic goods including sensors, and we have to take care when packing and dispatching them to send to customers. We would like to protect the goods with a soft but shock absorbent material, like foam, but then they will need to be packed into a strong outer pack so that they are protected when out for delivery.
What could you suggest to help?
Thanks,
Dave
Hi Dave,
Thank you for your enquiry.
Firstly, we suggest using foam inserts to encase your sensitive electronic goods, which are protective "eggbox" style foam made from low density polyurethane. They help to ensure your products stay firmly in place whilst protecting goods as they provide cushioning. A layer can be placed inside the bottom of a box, and then your items can be placed onto the foam, with a second layer then encasing the item. There is the option to purchase foam inserts without an outer box, so you can choose the most appropriate foam for your item in the size you require.
We would then propose using white postal boxes as outer packaging for your products. Available in a range of sizes, you can select the most appropriate for your individual items, and then place the foam inserts inside. Our white postal boxes are made from high quality corrugated cardboard, and are both highly presentable and quick to assemble, making them an ideal solution for busy packing operations.
To find the most suitable foam and boxes to meet your requirements, call our Packaging Experts today and they will be able to help you to order the most suitable products for your business!
We hope you will find this solution effective and hope to work with you soon!
Best wishes,
The Packaging Doctor