How to pack engineering goods – The Packaging Doctor
Getting transit packing right can be a difficult factor when sending goods off on the road to their chosen destination. Here at Kite Packaging we offer a range of heavy duty protection that businesses can choose the ideal packing solution from. Let's see how our Packaging Doctor can help with today's query…

Dear Doctor,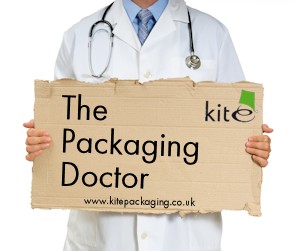 I run an engineering business that sends goods around the country and internationally and I'm experiencing a lot of damages. Goods can be sent via lorry, ship or even plane so I need packaging that can protect throughout all the different types of journeys.
Many thanks,
Paul

Hi Paul,

Thank you for reaching out – let's see how Kite's products can help with your packaging dilemma.
The first thing we recommend instead of a standard single wall or double wall box, is our extra heavy duty boxes. This is an extra strong alternative that offers maximum protection for its contents as each box is manufactured for heavy duty protection.
They have been subjected to rigorous testing to ensure they are fit for the purpose of looking after valuable and heavy items. We have a range of sizes suitable for the different dimensions of engineering equipment so you can find the right sized boxes for you.
Next, in terms of internal protection we advise you implement some inner shock absorbing protection which provides a cushioning layer in-the-box. The Kite product we feel would be suited to you on this occasion is our system shock absorbers, a specifically designed packing solution for minimising damages from movement in transit.
The unique design of the foam means that it can be easily manipulated to create a wedge between products, corner protection, edge protection and surface protection. Their beneficial features include minimal water absorption, temperature resistance, non-scratch protection as well as being 100% recyclable and chemically neutral.
By combining these two internal and external packing solutions, your goods can get from A to B in the same condition they left your warehouse in – therefore minimising your damages and maximising your cost-efficiency.

Best wishes,
The Packaging Doctor
Note: All the packaging problems our doctor receives are real queries from customers or non-customers. If you have a packaging problem that needs diagnosing get in touch: Twitter @kitepackaging or email packagingdoctor@kitepackaging.co.uk