How to pack flowers and plants – The Packaging Doctor
Here at Kite, our customer enquiries come in all shapes and sizes due to the wide variety of industries out there. It can be challenging to find the right packaging solution for goods and so our Packaging Doctor is on hand to help with all your packaging dilemmas.
Dear Doctor,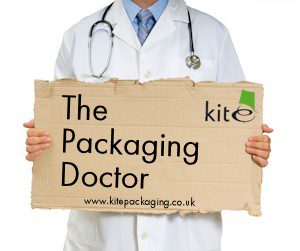 I run a local business that oversees the distributing of flowers and plants to retail organisations. These organisations are selling the plants and flowers that I provide them with, so preservation and protection is a must. What do you suggest I use to keep them protected?
Thanks,
Rachel
Hi Rachel,
Thanks for reaching out to us with your packaging query – let's see how Kite's products can help.
In order to safeguard your flowers and plants from any harm, we think you need some reliable protection that is flexible in application to accommodate your variety of plants. We recommend our corrugated paper rolls, a lightweight and economical solution designed to protect throughout transit and storage.
Their raised corrugated flutes provide protective padding throughout, therefore cementing a high level of shock absorbing protection for products. Keeping the cost of packing materials to a minimum is a concern many businesses and individuals have, especially because heavy materials can escalate delivery overheads. Our light-weight, single face corrugated brown paper is not only an economical solution, but is also made from 100% recycled materials and is available in a multitude of sizes for your convenience.
The corrugated roll paper can also be interwoven between flowers to create a layered effect that provides further intervals of cushioning for products. Afterwards, in order to secure the corrugated paper in place we advise using our self-adhesive paper kraft tape – another 100% recyclable solution which forms a long lasting, highly adhesive bond to all carton surfaces.
Best wishes,
The Packaging Doctor
Note: All the packaging problems our doctor receives are real queries from customers or non-customers. If you have a packaging problem that needs diagnosing get in touch: Twitter @kitepackaging or email packagingdoctor@kitepackaging.co.uk