How to pack food – The Packaging Doctor
The importance of packaging food produce hygienically and securely cannot be ignored in business. It must meet health and safety standards and significantly impacts brand reputation in the food industry. The Packaging Doctor is on hand to help assist with your food packaging questions
Dear Doctor,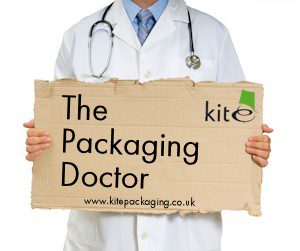 I'm a local business in the food industry, I'm struggling to find a suitable food grade bag that my team can use and we need something that can hold around 2kg of ice. The bag needs to be about 8 inches in width and 15 inches in length to fit the proportions of our produce. Our company is also considering vacuum sealing the bags to keep the produce fresh.
Thanks,
Byron
Hi Byron,
Thanks for getting in touch with us – let's find out what Kite can do to help.
Here at Kite, our team is always looking to provide innovative packaging solutions that ensure security and reliability. We also aim to accommodate produce in the food and drink industry in a way that prevents contamination and damage. Our vacuum pouches are the ideal solution for packing food as they remove the air from the package prior to sealing.
This is an essential characteristic in food packaging as it stops bacteria from corroding a product and these vacuum pouches also offer high clarity. This means they are great for displaying items in retail environments and are resistant to cold temperatures so they won't release air when refrigerated.
With our innovative vacuum pouches you can protect your stock from dust, moisture and a variety of other external elements that may harm or damage it. We offer a range of 10 sizes which you can choose from, which means you can purchase the right size bag to fit your products and you can also buy one of our effective vacuum sealers.
Best wishes,
The Packaging Doctor
Note: All the packaging problems our doctor receives are real queries from customers or non-customers. If you have a packaging problem that needs diagnosing get in touch: Twitter @kitepackaging or email packagingdoctor@kitepackaging.co.uk