How to pack fruit baskets – The Packaging Doctor
How would you send fresh fruit baskets to customers across the UK? This is the question asked this week in the surgery, and luckily the Packaging Doctor has the answer!
Dear Doctor,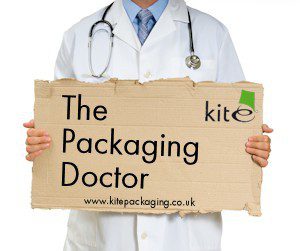 My online company sells fresh fruit baskets for UK mainland delivery, and we are currently looking to review our current packaging as we think it could be better.
What ideas can you suggest that might be of interest to us?
Many thanks,
Audrey
Hello Audrey,
Thank you for your query!
As the products within are delicate and you want each piece of fruit to arrive in perfect condition, we would suggest using a strong and sturdy double wall box to pack each hamper. These heavy duty boxes made with two layers of corrugated board are designed for shipping goods as they are able to provide protection during transit. Kite's huge range of different sized boxes allows you to select the most suitable for your range of baskets.
We would also suggest protecting the products within the box using environmentally friendly paper void fill. Depending on the size of your operation, you could consider using a SpeedMan box, suitable for lower volume users, or look at Kite's more automated systems, such as the SpeedMan Classic. These dispensers will allow you to nestle the baskets within the boxes, providing additional protection.
You can then seal the boxes with clear or brown economy packaging tapes, and to finish of each parcel, you could place "Handle with Care" and "This Way Up" labels to ensure that the parcels are handled correctly while they are being delivered. This will help to ensure that the fruit baskets arrive in perfect condition for your customers!
We hope this helps, and if you are looking for more advice, please do not hesitate to contact our team of experts!
Best wishes,
The Packaging Doctor
Note: All the packaging problems our doctor receives are real queries from customers or non-customers. If you have a packaging problem that needs diagnosing get in touch: Twitter @kitepackaging or email packagingdoctor@kitepackaging.co.uk