How to pack laptops – The Packaging Doctor
There are a range of packaging materials that can be used to pack electronics, and this week the Packaging Doctor helps a business to pack the laptops that they sell…
Dear Doctor,
My business sells refurbished laptops and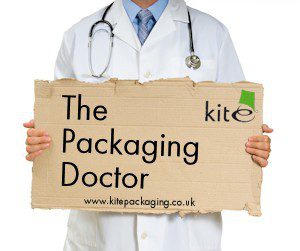 accessories, which is a great alternative for customers looking for a cheaper option to buying a brand new model. We have seen an increase in the number of customers choosing to order from our store and wanting their order delivered to their homes, rather than coming to the store to collect it.
As they are often refurbished laptops, we don't have the original packaging to use to ship the items safely. What would you suggest we use to make sure the laptops arrive safely without being damaged?
Thanks!
Hannah
Hi Hannah,
We can definitely help you with your packaging dilemma, so thank you for getting in contact!
One option you could look to use to pack your laptops are our foam lined postal boxes, especially if you choose to use a courier service that are likely to take additional care when handling your orders. These white postal boxes give the pack a presentable finish, whilst protecting the laptops by encasing them in "eggbox" style foam. The foam inserts cushion the contents of the box, minimising any impact during transit and handling. It also gives you the option to pack multiple accessories within one box as the foam cushioning can protect each item during delivery.
If you are sending these goods a further distance to your customers, and if the items are particularly expensive, you may want to consider using Air Shock packaging. These inflatable air cushioning pouches are perfect for protecting items such as electronics when posting, and we have a range that includes a specially designed laptop size pouch. Delivered un-inflated, these pouches don't take up a lot of storage space, and can be inflated as and when you need them using a hand pump or compressor (depending on how many pouches you think you will need to inflate). To provide additional protection, Air Shock pouches can be purchased with an outer box, which you could seal with custom logo tape to promote your brand, and add additional handling information using our range of handling labels, for example "Handle With Care" or "Fragile".
We hope you will find these solutions ideal for your business, and our team are on hand to provide more help or information if you need it!
Best wishes,
The Packaging Doctor
Note: All the packaging problems our doctor receives are real queries from customers or non-customers. If you have a packaging problem that needs diagnosing get in touch: Twitter @kitepackaging or email packagingdoctor@kitepackaging.co.uk