How to pack luxury fabrics and home accessories – The Packaging Doctor
It is important to use the right type and size of packaging when using it to protect items during handling on transit, but with a variety of different sizes of product, it can be difficult for a business to develop a consistent method to pack goods. This week, the Packaging Doctor helps a customer find a solution for the variety of luxury fabrics and home accessories that they sell…
Dear Doctor,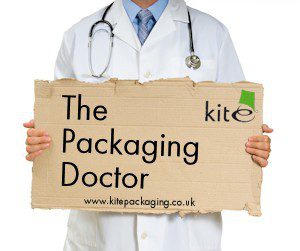 Our business specialises in selling luxury fabrics and home accessories, including frames, mirrors and decorative ornaments.
To finish off the customer experience, we want to pack the items in a protective but presentable way. With such a variety of products in stock that vary in size and weight, we are looking for a form of packaging that we can use for all of them, to present a consistent brand to our customers.
What do you think would be best for our business?
Thanks,
Lily
Hi Lily,
Packaging is not only required to protect products, but can also help to promote the image of a brand and therefore we understand the need to balance the two!
As your range of products varies in size and weight, but you would like an option suitable for them all, we would propose using our range of white postal boxes. The range is available in a variety of sizes and styles, which you'll find ideal for your particular product lines. Manufactured from corrugated cardboard, these boxes are capable of taking impact during handling and transit, to ensure your products are protected within. They have a presentable white outer finish, which makes them perfect for presentation purposes.
To add some luxury to your packages, you should consider using coloured tissue paper, which you could use to wrap the items before placing inside the white postal boxes. If you have a prominent colour in your logo, you could use a tissue paper in the same colour to promote your brand to customers. All of our tissue paper is acid free so will not cause any damage to products and provides a degree of protection whilst primarily creating a luxury, presentable finish.
Though many of our postal boxes seal either using tuck-in flaps or with a peal and seal strip (as seen on our folder wrap style boxes), you may choose to use custom logo tape, to provide additional security and ensure the box remains sealed until the customer opens it. This is also a great opportunity to promote your brand by having your company logo clearly printed on the tape, giving your business the opportunity to be seen by a number of people including your customers.
We hope that you will find the suggestions above suitable for your business, and we hope that you will choose to work with Kite soon!
Best wishes,
The Packaging Doctor
Note: All the packaging problems our doctor receives are real queries from customers or non-customers. If you have a packaging problem that needs diagnosing get in touch: Twitter @kitepackaging or email packagingdoctor@kitepackaging.co.uk