How to pack martini vases – The Packaging Doctor
Many businesses require packaging to store and protect items such as props and decorations that they take to venues across the country, and need solutions that they can use again and again.
This week, The Packaging Doctor advises some of these protective, reusable solutions…
Dear Doctor,
I'm a venue st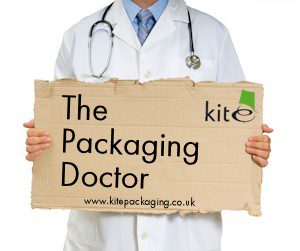 ylist and have a collection of giant martini vases that I need storage boxes for and was wondering if you have anything suitable please? 
They are 20 inches tall by 9.5 inches wide at their widest point. The boxes would probably benefit from a foam lining to prevent damages to the vases if this is possible, though this is not essential.
Thanks,
Hayley
Hi Hayley,
Thank you for your enquiry!
To store these large vases, we would suggest using Kite's strong and reliable Double Wall boxes. Available in a huge range of sizes, you could select a size that would be suitable for storing multiple vases, or choose a box that would protect each individually.
If you find that you have to carry and transport the boxes frequently and would prefer greater peace of mind, Kite's 'Handle with Care' boxes are available. Made from extra strong, double wall corrugated cardboard, these boxes are printed with a bold "Handle with Care" message to remind others that these items require delicate handling, which should ensure additional care is taken and the vases remain intact.
You could use foam inserts and tape these to the inside of the box to create a foam lining, which would help to protect the vases within the boxes. Alternatively, you could choose to use an in-box solution, to provide greater protection.
Using paper as a void fill solution is a low cost, environmentally friendly way to protect delicate goods such as your vases, and the SpeedMan box allows you to dispense ready to use protective paper easily and efficiently. It is ideal for low volume users and you may find the paper suitable to reuse to pack the vases multiple times.
An alternative option we would advise is using loose fill chips, which are a popular choice of void fill. These durable chips fill any space and gaps around a product to provide complete protection during storage and transit, by minimising the impact of shock, vibration and movement.
We hope that you will find this range of solutions suitable for protecting your vases, and our team are on hand to provide any further advice if you would like more!
Best wishes,
The Packaging Doctor
Note: All the packaging problems our doctor receives are real queries from customers or non-customers. If you have a packaging problem that needs diagnosing get in touch: Twitter @kitepackaging or email packagingdoctor@kitepackaging.co.uk