How To Pack Metal Components – The Packaging Doctor
Whether we realise it or not, we are surrounded by packaging every day. It is the foundation to many businesses; used for advertising and promotion, organisation, keeping items safe during transit, and protecting items in storage.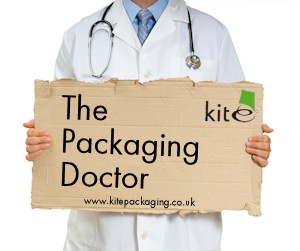 It is important that we take time to think 'outside of the box', and recognise that packaging is not just about cardboard boxes.
It is an innovative and ever-evolving industry. One which is full of multi-purpose products, that can be applied to numerous everyday applications and industries.
Today in the surgery we meet an industrial manufacturer searching for a new packing solution, as bubble wrap doesn't quite suffice anymore. Read below how I helped provide the latest dose of clever packaging advice to our patient…
Hi Doctor,
I am an industrial manufacturer, specialising in producing metal components for the shipping industry.
To pack our products, as standard we use bespoke plastic moulded caps to protect the ends of the parts, and then wrap in bubble wrap. This works well for us. However, we are looking to produce a new part, which is slightly larger in size compared to our current range, and our moulded caps will not fit. The diameter of the product is 3 inches x 4 inches.
These parts are quite heavy and expensive, is there anything you can suggest that we can use to protect the ends during transit?
I know this is an obscure question, but hope you can help!
Thanks,
Tom
Hi Tom,
Thanks for your question. We welcome obscure and wonderful things in the surgery, so please don't apologise! In fact, you will be pleasantly surprised at how simple the solution is that I have for you.
Take a look at our Air Shock Packaging. This air cushioned packaging system uses a range of different sized strong, inflatable pouches to protect items during transit. For you, I would recommend Pack 1. The metal component will fit comfortably into this pack, and once inflated, the usable dimensions are 4x4x5, perfect for your part.  What's even better about this product is that the pouches are puncture-proof and open-ended. This instantly provides flexibility; meaning you can use them as end caps, and can inflate the pouches on demand.
Air Shock is a popular product with our customers, as not only does it provide product protection but also saving of space in your operation, less waste and a faster packing method.
See, not too complicated at all. Why not give it a go!?
We hope this helps,
Best wishes,
The Packaging Doctor
Note: All the packaging problems our doctor receives are real queries from customers or non-customers.
 If you have a packaging problem that needs diagnosing get in touch on Twitter @kitepackaging or email packagingdoctor@kitepackaging.co.uk