How to pack miniature bottles of liquor – The Packaging Doctor
Many of our customers sell a variety of different sized products, and often need help to pack goods in the most effective way to deliver them safely to customers. This week, The Packaging Doctor helps a customer looking to package their range of miniature liquor bottles…
Dear Doctor,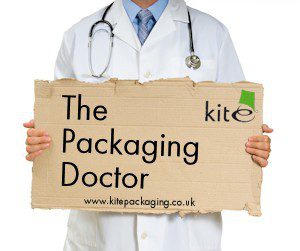 My business specialises in selling miniature bottles of liquor. We have an extensive range, which are all bottled into miniature glass bottles.
We offer our customers the opportunity to purchase a selection of different liquors, which we would like to pack into one presentable box so that they receive their goods in a form of a small hamper. However, it is crucial that the bottles do not touch one another, as they are very delicate and can be easily broken.
How would you pack a selection of glass bottles into one box and ensure they all get to my customers without touching or breaking?
We would appreciate you and your Packaging Experts' expertise!

Many thanks,
Amy
Hi Amy,
Our team are experts when it comes to all things packaging, and we have developed an innovative and effective solution for your business!
We would propose using white postal boxes (29 x 20.8 x 9.5cm), which will cater for your extensive range of bottles. These white postal boxes are finished with a high quality white coating which makes the parcels presentable. The boxes don't only look good, but are made from corrugated cardboard so are capable of protecting the contents, which in this case is critical as the goods are delivered.
To ensure that the bottles do not touch one another within the boxes, we would suggest using an in-box solution. Depending on how you would like to present your items, you could either use a SpeedMan Box, which is effective void fill paper, or small bubble wrap, which you could use to intertwine between each bottle, to create your own dividers. This method would also allow you to use only the amount of material required per parcel, which would be a cost effective way to pack your orders. For example, if a customer orders 8 items, you can create 8 divisions between the products, but if they order 3, you would not have to use quite as much material to prevent the bottles from touching.
Whichever you decided to use, either of these in-box materials will provide great protection against shock and vibrations when the parcels are out for delivery, and will ensure your bottles are protected within the white postal box.
To address your white postal boxes to your customers, we can provide a range of high quality plain labels which you can write onto or alternatively print onto using an inkjet or laser printer. The acrylic based adhesive of our labels is sure to adhere to the surface of our white postal boxes, to ensure that the parcel is delivered directly to the customer. You may also wish to brand your boxes, which can easily and cost effectively be achieved by using custom logo tape. This is a great was to promote your brand, and finish a high quality parcel.
We really hope that you will find these solutions suitable, and our Packaging Experts are on hand to organise your order!
Best wishes,
The Packaging Doctor
Note: All the packaging problems our doctor receives are real queries from customers or non-customers. If you have a packaging problem that needs diagnosing get in touch: Twitter @kitepackaging or email packagingdoctor@kitepackaging.co.uk