How to pack mobile phones and accessories – The Packaging Doctor
We are always keen to help a business to find the right packaging solution for their products, ensuring their items are delivered safely, whilst helping to keep their costs low. This week, The Packaging Doctor provides alternative solutions to achieve all of these things…
Dear Doctor,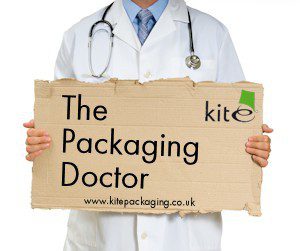 My business sells mobile phones and other accessories online, so we ship out all products through the post to our customers.
We are having problems getting the right level of protection from our packaging whilst balancing the cost of the materials, as we are currently a small business that we are trying to grow.
What would you recommend to ensure the products are delivered safely, without using really expensive materials?
Thanks,
Charlie
Hi Charlie,
We have a number of options that would be suitable, and you can choose between the alternative below depending on how much you would be willing to spend on packaging materials.
A premium option for packing your mobile phones and accessories would be to use Kite's Air Shock packaging. These air cushioning protective pouches are ideal for products such as mobile phones that are delicate and valuable. Simply inflate the pouches using a hand pump or air compressor and place the phone into the pouch. For additional protection and to ensure the phone cannot be seen whilst it is being delivered in the postal network, place the Air Shock pouch into a box, which can then be labelled with the customers address, and branded with your logo using custom logo tape.
This is a premium option, and requires time to inflate the pouches, however would ensure that your items arrive to customers in excellent condition, and promote a premium quality service from your business to customers.
Alternatively, there are other materials that perform well and are perhaps more cost effective for your business. Kite has a range of bubble bags, which are protective, bubble wrap bags with a that surround an item to protect it during transit. A wide range of sizes are available to suit your products, and you could consider purchasing anti-static bubble bags, which ensure items are protected from static build-up, which could cause damage to the contents.  Each of our bubble bags has a secure peel and seal strip, to ensure quick and efficient sealing of the bags. To then pack the items out for delivery, you could use protective book wrap mailers. These corrugated cardboard mailers are ideal for sending goods out in the post as they are strong and secure, sealed with a peel and seal strip, and tamper evident, to ensure your customers receive their items safely. They are variable in the depth so that a wide range of products can be packed securely within them, which you may find useful for your product range.
To ensure the parcels are handled carefully, you could consider using a "Handle with Care" or "Fragile" label, to provide clear handling instructions to the courier. These mailers can also be easily addressed to your customers using Kite's inkjet and laser labels, or labels on a roll if you would prefer.
We hope that these alternative ideas will provide you with an ideal solution for your business, and we hope to work with you soon!
Best wishes,
The Packaging Doctor