How to pack musical instruments in order to produce a protective mould – The Packaging Doctor
The Packaging Doctor is always on hand to provide expert advice to businesses and individual customers alike, and this week, a customer needs packaging to secure and protect a harp in order to produce a protective mould...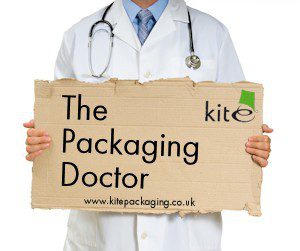 Dear Doctor,
I'm looking to make a mould for making cases for a small harp but to do this I need some protective materials that can make up a mould first which will enable me to apply the fiberglass and resin in stages to produce it. The main thing that I want to ensure is that I can produce a well-sealed film which will stick to it well, be reasonably tight, but not exert under pressure on the contents. I expect some wrinkling in places but the mould can be tidied up afterwards as long as any defects are not excessive. Can you suggest what type of stretch film might be suitable?
Thanks,
Stuart
Hi Stuart,
Thank you for reaching out to us – let's find out how the Packaging Doctor can help.
Here at Kite, our team are always looking to design new, innovative products to secure and protect goods. We've recently developed some new foam protective agents which can prevent external factors damaging goods. Our simple yet effective foam blocks from this range would be ideal for placing between the strings and our new cushioning foam sheets can form a reliant, safeguarding layer around the harp if it has a gloss finish. The sheets are ideal for protecting glass, ceramics and polished wood against abrasions that could happen when surfaces rub together due to their protective non-abrasive layer.
However if you harp does not have a gloss finish, we advise using our bubble wrap as this would also offer a high level of preservation and protection. Now that we have the right internal stability for the mould, let's talk about the type of outer stretch film that will accommodate it. We highly recommend our mini stretch film which is perfect for smaller consignments, ensuring a secure and stable load every time in a matter of seconds. It gives the ultimate efficient operation when used with our inexpensive and easy to operate mini stretch wrap film dispensers – they make light work of any wrapping.
The high quality properties of the film mean it can be used to wrap a wide variety of products – it adheres with ease. There are two sizes of thickness available to choose from and each specification leaves a compact, eye-catching, residue-free finish on products.
Best wishes,
The Packaging Doctor
Note: All the packaging problems our doctor receives are real queries from customers or non-customers. If you have a packaging problem that needs diagnosing get in touch: Twitter @kitepackaging or email packagingdoctor@kitepackaging.co.uk