How to Pack Picture Frames – The Packaging Doctor
Damaged goods, something that all of us have experienced. The gut-wrenching feeling you get, you have been patiently waiting your latest purchase to arrive in the post, only to open it and realise it is has been damaged in transit.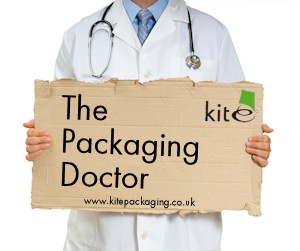 It's something I see time and time again from my patients, and the risk involved if you find yourself in this situation and don't reconsider your packaging can be huge. Your products, your finances and most importantly your company's reputation, is at risk if you don't make a change.
When you are dealing with delicate items such as antiques and picture frames, it is even more important that you have the packaging perfect. You only have one opportunity to get these items from your warehouse to your customers, so you need to ensure you get it right, on time, every time.
In the surgery today I meet a high-end picture frame supplier looking to reduce labour costs and simplify their current packing process.  Read below how I provided a basic solution to the patient's operation, and helped create a more peaceful 'frame of mind'…

Hi Doctor,
I have an online business selling very expensive picture frames to customers all over the world.
To pack and protect the frames we currently use foam and bubble wrap. However, we find this method to be extremely labour intensive. Is there anything else you would recommend that would provide effective protection, and help save us time?
Thanks,
Ben
Hi Ben,
Thanks for your question in the surgery today. As your products are high value it is essential that you ensure that your customers receive their frames without any damage. I have a safe and professional solution so a good first impression will be instantly created.
Firstly, have a look at our picture frame boxes. These boxes are a quick and effective way to safely store your picture frames, and help keep dust at bay!
There are three popular sizes to choose from, all of which are built from strong double wall corrugated cardboard. Our picture frame boxes  are made with a Kraft paper outer, which provides puncture and tear resistance to the package. The clever telescopic design provides flexibility, and allows you to adjust the height of the box to fit perfectly around the frame, maximising protection during transit.
I would also recommend a dose of corner edge protection to eliminate the risk of knocks and scuffs. Corner protectors are pieces of polyethylene foam, that are placed onto the corners of the frames, to help take the pressure of transit movement. Available in two different sizes, corner protectors are simple and quick to apply.
By combining the use of picture frame boxes and corner protectors, your new packaging process will be easily implemented, more cost effective and help reduce labour time.
We hope this helps,
Thanks,
The Packaging Doctor

Note: All the packaging problems our doctor receives are real queries from customers or non-customers.
 If you have a packaging problem that needs diagnosing get in touch on Twitter@kitepackaging or email packagingdoctor@kitepackaging.co.uk