How to pack posters – The Packaging Doctor
Here in the surgery, we love finding solutions to problems and sharing them with you all. And it's great when our products have multiple uses and work together to provide you with the perfect solution. Let's see how the Packaging Doctor can help with today's enquiry….
Dear Doctor,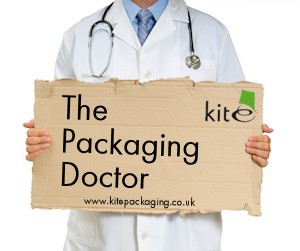 As a hobby, I print posters and sell them on but at the moment I'm finding that they often get damaged in transit or the packaging ends up wet and getting ruined. This really is not the type of packaging you want to receive when having paid for a product. What can I do to stop this happening?
Best wishes,
Trevor
Hi Trevor,
Thank you for coming to the surgery with this problem – let's see how Kite can help!
We completely appreciate that you certainly do not want your products arriving to customers in this way, but not to worry, we have the perfect solution for you.
Our triangular postal tubes are ideal for sending and protecting artwork, prints, plans or poster in the mail and designed with ease in mind, they are designed with ease in mind and do not require a separate end caps and also arrive flat packed meaning they require little storage space.
Although not waterproof, when teamed with our polythene tubing this will offer the waterproof properties required. They will allow you to tailor-make bags to any size ensuring to protect products from dirt, dust and moisture, meaning your posters will arrive as desired.
Best wishes,
The Packaging Doctor
Note: All the packaging problems our doctor receives are real queries from customers or non-customers. If you have a packaging problem that needs diagnosing get in touch: Twitter @kitepackaging or email packagingdoctor@kitepackaging.co.uk