How to pack printed t-shirts – The Packaging Doctor
Many businesses know the importance of storage organisation in the workplace. It often lays the foundations for efficient business practice - organising product stock in a way that is methodical and consistent for the team to adhere to. The Packaging Doctor is on hand to help assist with your storage implementation.
Dear Doctor,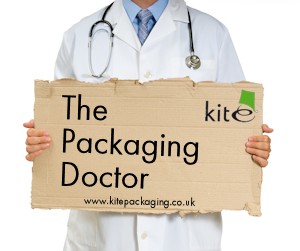 We're a small business that sells printed T-shirts at a variety of festivals and are  currently in the process of looking for a clear-cut, structured storage system. We're hoping to put a straight forward system in place that can encourage our team to dispense our stock no complications.
Thanks,
Mark
Hi Mark,
Thanks for reaching out to us – let's find out how Kite can help. Here at Kite, we pride ourselves on our high quality, organisational storage products and we think we've found the ideal packaging solution for you.
Our new and exclusive Corrugated Storage Bins can provide you with a simple yet systematic approach to storing your products. They come in a range of sizes which means they can accommodate all the different T-shirt sizes and each box is equipped with a printed front panel to allow for labelling of its contents.
These will ensure reliable, coordinated storage implementation and will enable your team to distribute the T-shirts with ease. The distinguished folding design of the boxes removes the need of glue or staples and the lowered front panel feature will make it quick and simple to retrieve the T-shirts from each one.
All in all, these Corrugated Storage Bins will establish a forefront of organisation that will allow you to instrument efficient and effective selling.
Best wishes,
The Packaging Doctor
Note: All the packaging problems our doctor receives are real queries from customers or non-customers. If you have a packaging problem that needs diagnosing get in touch: Twitter @kitepackaging or email packagingdoctor@kitepackaging.co.uk