How to pack products the environmentally friendly way – The Packaging Doctor
In light of recent events and the increasing focus on environmental impact, our Kite team are continuously trying to develop our product offering to accommodate businesses making the move towards greener operations. Let's see how our Packaging Doctor can help with today's eco-friendly enquiry…

Dear Doctor,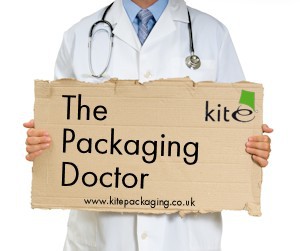 I run a small operation in which we distribute plastic bottles and with society's recent amplified emphasis on plastic waste, we're trying to get any excess plastic to a minimum. I need packaging that gives a good level of protection without harming the environment, what do you recommend?

Thanks,
Kieran
Hi Kieran,

Thanks for reaching out – let's see what Kite products can help you today.
The first product we suggest is our carton postal boxes which are available in white and brown. Lightweight but sturdy, these boxes are great for keeping costs down whilst offering a great presentable solution. This style of box has a huge range of uses and has proven an extremely popular choice for e-commerce, mailing and fulfilment companies. All the sizes in this range are delivered flat-packed, therefore minimising the amount of space required to store them and making them easier to handle.
The next packaging solution we advise is our Speedman box, a compact, manual voidfill system which provides 100% recycled paper for inside the box. This increasingly popular method of packing goods ensures shock absorbing internal protection and is another on the environmental tick list.

In order to seal your postal boxes securely without harming the environment, we suggest you use our Kraft paper tape instead of traditional plastic tapes. You could either use our self-adhesive paper Kraft paper tape or our gummed paper tape with our efficient tape dispenser. Both of which are proving highly useful for fulfilment operations due to their environmental benefits and secure sealing.
Best wishes,
The Packaging Doctor
Note: All the packaging problems our doctor receives are real queries from customers or non-customers. If you have a packaging problem that needs diagnosing get in touch: Twitter @kitepackaging or email packagingdoctor@kitepackaging.co.uk