How to pack sculptures – The Packaging Doctor
Here at Kite Packaging, we know how important it is to protect your stock so that it reaches its destination in the condition it left the warehouse in. When it comes to larger goods, it can become more challenging to implement reliable, protective practice with packaging, so let's see how the packaging doctor can help.
Dear Doctor,
I'm a UK businessman currently working in the art trading industry which entails sending out large steel sculptures of around 4 meters high. Originally I've been sending my products in polypropylene strapping but some customers have complained of damages. What can I do to prevent these damages from happening?
Thanks,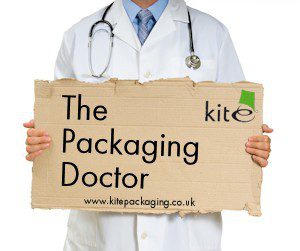 Lee
Hi Lee,
Thank you for contacting the packaging doctor – let's see what we can do.
Whilst you have an outer packing method in place, you need some inner protection that will ensure your sculptures reach their destination in the condition they left the warehouse in. By incorporating a variety of interior and exterior packing agents you can minimise the chances of defects from movement or shock.
The first packaging element we recommend is our range of cushioning foam products which can hold your sculptures in place and provide a reliable, shock absorbing, protective layer. We have a range of different styles and specifications to choose from to suit your sculptures requirements, including our foam sheets to wrap round and self-adhesive foam blocks to prevent friction from outer packaging.
Next we would suggest using our clear polythene sheeting which is particularly ideal for protecting larger, bulkier items in transit and storage. This is a waterproof film which protects against all the elements and dirt and dust, therefore keeping your sculptures clean. There is a variety of density to choose from so you choose whether you would like a light, medium, heavy or extra heavy duty.
Finally, with regards to strapping, we recommend you use steel strapping which is stronger and more reliable for securing larger, heavier goods. This steel strapping can secure your sculptures to pallets to ensure safe transportation and by utilising all these packing elements you're providing your sculptures with the ultimate protection during transit. We hope this helps!
Best wishes,
The Packaging Doctor
Note: All the packaging problems our doctor receives are real queries from customers or non-customers. If you have a packaging problem that needs diagnosing get in touch: Twitter @kitepackaging or email packagingdoctor@kitepackaging.co.uk