How to pack skincare products – The Packaging Doctor
As we all know, products can come in all shapes and sizes, so it's important to have all the right packaging available to suit the wide range of stock. The Packaging Doctor is on hand to help assist with your skincare packaging questions.
Dear Doctor,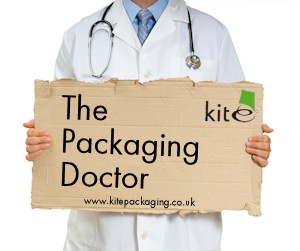 I own a home grown skincare business and we stock a large range of products. We're looking for some reliable packaging which falls in line with gift packaging whilst also securely protecting all the different sized products we sell. We need something that is suitable for direct shipment to customers to avoid products arriving at their destination broken or leaking. What do you suggest?
Thanks,
Lillian
Dear Lillian,
Thanks for reaching out to us – let's find out how we can help.
When it comes to distributing your stock, we know how important it is for your packages to get to your customers in the exact same condition they were despatched in. That's why Kite specialises in packaging solutions that ensure credible protection for a wide range of products, including those in the skincare arena.
We can imagine that with your vast range of different sized stock, you'll need a selection of alternate packaging options that can cater for all your bespoke requirements. An ideal exterior for shipment purposes would be that of our robust postal boxes. These are a reliable, cost-effective choice that ensures the secure protection of goods whilst sending the right message to the buyer thanks to their classic composition. We've recently extended the range so now there are two specifications which you can choose from – our White Postal Boxes and our new Brown Postal Boxes. The lightweight yet sturdy nature of each box means they are a popular choice for e-commerce and mailing businesses and they are available in several sizes.
For the interior, you can further strengthen the protection of your items by incorporating some foam blocks or alternatively you can add some colour by filling the boxes with our vibrant EcoFlo void fill. If you would prefer more of a contained, element of surprise option, you can wrap your contents in our bright, elusive tissue paper which comes in a variety of colours. After you've decided on what internal safeguarding packaging to include, you can finish off your postal boxes with our affirmative circular label. These are the perfect way to seal your parcels and you can personalise the stickers by printing your own branding on them.
Best wishes,
The Packaging Doctor
Note: All the packaging problems our doctor receives are real queries from customers or non-customers. If you have a packaging problem that needs diagnosing get in touch: Twitter @kitepackaging or email packagingdoctor@kitepackaging.co.uk