How to pack smaller glass bottles – The Packaging Doctor
Protecting your items during transit and storage is crucial, particularly if the items are delicate and of high value. Kite appreciates how pivotal this process is and so let's see what our Packaging Doctor advises when it comes to packing smaller glass bottles in the drinks industry.
Dear Doctor,
I work in the drinks industry and I'm struggling to find the right packaging for my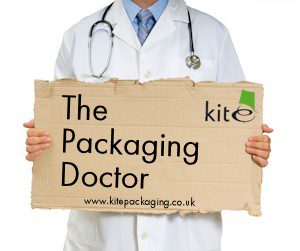 products. My business sells glass spirit bottles which require protection for the road and in the warehouse. They are around 225mm x 75mm which makes them slightly too small for your bottle box, do you offer anything else I could use?
Thanks,
Melissa
Hi Melissa,
Thank you for getting in touch – let's see what Kite products could help solve this problem.
In order to offer an effective alternative solution that protects your bottles, we advise three components that will make it happen. Firstly we suggest our innovative net foam, a great layer of cushioning for cylindrical shaped items in a range of industries. Their sleeve-like, bottle-net characteristic is produced from 1mm thick foam and is designed to protect items from sustaining chips, scratches, scrapes and shock that can often be experienced during transit. We offer a half bottle size which has the ideal dimensions for protecting your smaller glass spirt bottles.
For the next piece to the puzzle, we advise our strong double wall box which is 305mm x 229mm x 229mm. Our double walled cardboard boxes are designed to offer superior strength and reliability to customers interested in shipping or storing heavy loads. When this box and net foam is combined, your bottles will comfortably fit so that there is no movement during transit or in the warehouse.
The last thing we strongly recommend you use is some handling labels which ensure your boxes are handled with due care and attention throughout the transit stages. Handling and shipping instructions ensure your products are treated with caution during transit and not damaged through mishandling. We offer a range of stickers which have messages such as "Fragile", "Glass with care" and "Handle with care" – so you can pick the perfect one for you.
Best wishes,
The Packaging Doctor
Note: All the packaging problems our doctor receives are real queries from customers or non-customers. If you have a packaging problem that needs diagnosing get in touch: Twitter @kitepackaging or email packagingdoctor@kitepackaging.co.uk