How to pack speakers and event equipment – The Packaging Doctor
As the Glastonbury festival came to a close this week and with more summer music festivals planned, many bands and artists will have a lot of equipment to move around the UK! This week, The Packaging Doctor helps a musician and his band to protect their equipment…
Dear Doctor,
Our band plays at a number of events all over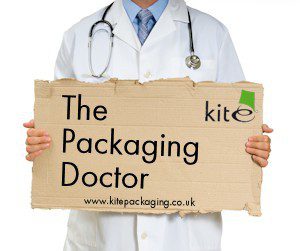 the UK, especially at this time of year when there are many popular summer festivals.
Along with all of our instruments, we have speakers and other technology that is expensive and we need a way to pack and cover this equipment when we travel to different locations and set up before the events begin.
What would you suggest we use?
 Thanks!
 Steve
Hi Steve,
Thank you for getting in touch – we can definitely help to keep your equipment safe!
An ideal solution for you to use to cover your equipment is our Black Flush Core Pallet Wrap. Designed to prevent goods from being identified, our opaque security wrap can be easily wrapped around your equipment by hand, and adheres to itself once wrapped around the goods.
The pallet wrap also protects goods from dust and the elements, so no matter where your speakers are set up, they will be protected before the event begins!
For your other technology such as lights, controls and electrical wires, you could use our Handle with Care boxes or Extra Heavy Duty boxes, depending on the contents you want to pack.
Our Handle with Care Boxes provide clear, bold messaging to indicate the fragile contents of the box, and ensure that others will take care when handling the box. This might be a good solution for sensitive equipment that needs to be handled carefully. Alternatively, our Extra Heavy Duty boxes could be used if your equipment is particularly heavy. Robust and strong, these boxes would provide protection to your equipment during transit and as you frequently visit different locations, you would require a box that remains fit for purpose over time.
Depending on the contents of each box, you may also want to consider using some in-box protection, such as Bubble Wrap or Foam Roll, but I would advise discussing these options with our Packaging Experts to ensure the most effective product for your requirements!
We hope you will find these solutions helpful, and enjoy a busy summer of music events!
Best wishes,
The Packaging Doctor
Note: All the packaging problems our doctor receives are real queries from customers or non-customers. If you have a packaging problem that needs diagnosing get in touch: Twitter @kitepackaging or email packagingdoctor@kitepackaging.co.uk