How to pack vases – The Packaging Doctor
Protecting exquisite handmade vases is the task for the Packaging Doctor and the team this week!
Dear Doctor,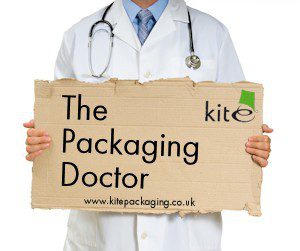 We produce expensive, handmade vases that we sell to our customers from our shop and ship to customers who order our products on our website. As you can imagine, we cannot afford for these delicate items to get broken and we do not want our customers to receive a product that isn't in perfect condition.
What would be the best materials we can use for these products?
 We would appreciate any advice you can give us!
Thanks,
Holly
 Hi Holly,
Thank you for getting in touch!
We often hear from customers that they need to find materials to protect delicate products and surfaces, and we have a variety of options for you to choose from.
For your vases, it is important to avoid using abrasive materials that could leave small scratches on the surface of the product. As they are expensive, we would suggest using Instapak Quick RT foam cushioning, and using a double wall box to pack the vases into.
The Instapak system allows you to produce your own moulded foam cushioning, perfect for protecting high value, delicate products of all shapes and sizes. Simply activate the system by patting the sides of the pouch as indicated, which triggers the foam to mix and then create the mould around your product. Once formed, the mould provides maximum protection for your product, giving you the confidence to then place the product into a double wall box for sending out to customers. Using double wall boxes provides an additional layer of protection for the vases in transit, as they are made from two layers of corrugated board, which are able to absorb shock.
To complete your packages, you could consider using some of Kite's handling labels, which should help to ensure that everyone takes additional care when handling the item. Choose from a range of labels including "Fragile", "Handle With Care", or "Glass With Care", depending on the message you want to get across to others. These high quality labels have a good adhesive so will remain securely attached to your boxes, and therefore the product should arrive to the customer in perfect condition!
We believe that this is an ideal solution for your expensive, quality vases, and we hope that you will find it useful! If you would like any further assistance, you can find demonstration videos on our website, or our expert team is available to answer any questions you may have.
Best wishes,
The Packaging Doctor
Note: All the packaging problems our doctor receives are real queries from customers or non-customers. If you have a packaging problem that needs diagnosing get in touch: Twitter @kitepackaging or email packagingdoctor@kitepackaging.co.uk